Toshiba Adds 16TB Capacity to N300 and X300 Hard Drive Series
September, 2019
Toshiba Adds 16TB Capacity to N300 and X300 Hard Drive Series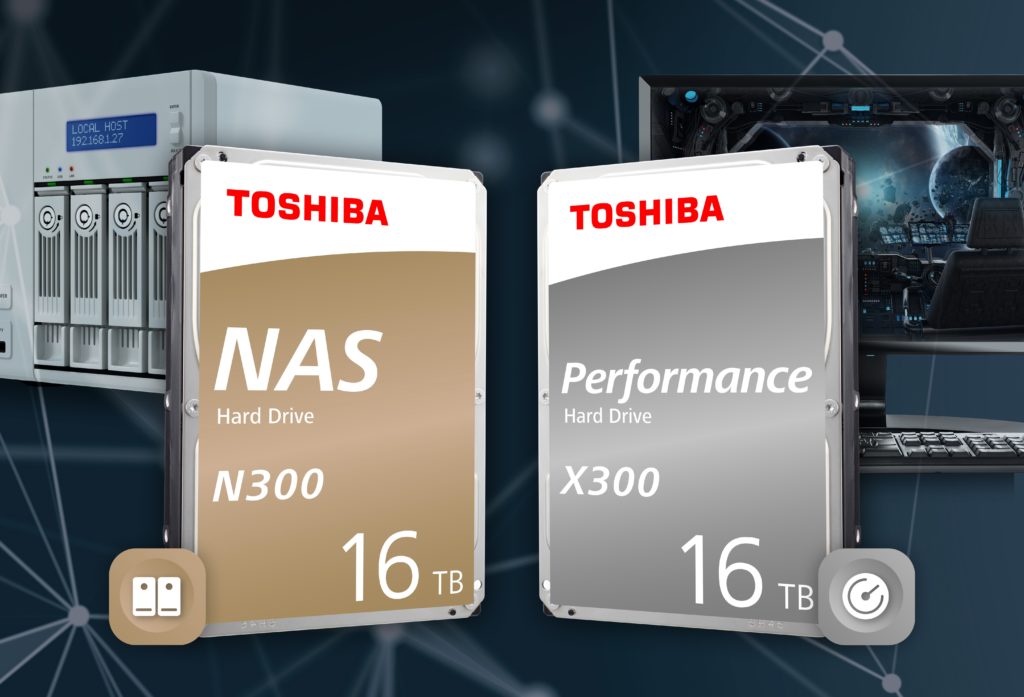 Toshiba has added new 16TB helium-sealed models to both the N300 and X300 Series. The 16TB models offer 14% more capacity than 14TB models. The 16TB models also double the buffer size of the 14TB models, increasing from 256MB to 512MB.
According to the company, Toshiba's 16TB N300 and X300 deliver new levels of storage capacity and density while offering improved power efficiency utilizing their advanced helium-sealed design. The 16TB N300 and X300 Series utilize a 9-disk helium-sealed design, delivering increased storage density with a lower hard drive operating power profile. Toshiba's laser welding technology and case design keep the helium securely sealed inside an industry-standard 3.5-inch2 drive enclosure.
The N300 Series is good for applications like home office and small business NAS and private cloud storage, with up to eight drive bays supported. Designed for 24/7 operation, the N300 Series has a workload rating of up to 180TB/year, 7200rpm performance and integrated sensors to compensate for rotational vibrations.
Designed for PC and high-end desktop workstations, the X300 Series delivers 7200rpm performance, drive stabilization technologies for improved reliability and Toshiba's cache technology to optimize cache allocation during read/write to provide high-level performance in real time.
The N300 Series has a 3-year limited warranty while X300 Series has a 2-year limited warranty. The 16TB N300 and X300 models are expected to be available in by the end of the year and will allow gamers and NAS users to efficiently store and access large amounts of data. But, unfortunately, all hard drives are vulnerable to logical and physical failures that may result in data loss and the Toshiba's N300 and X300 are no exception. In that case, the Toshiba's N300 and X300 hard drives owners will need to contact a professional data recovery services provider to get their irreplaceable data back.
ACE Data Recovery has been providing high-quality data recovery services on a full range of hard drives and the company's engineers can retrieve data from storage media that other companies consider unrecoverable. The company's data recovery process meets manufacturer's requirements. ACE's will gladly help the Toshiba N300 and X300 HDD owners with their data recovery needs.