Tiny PNY Elite Portable SSD unveiled
June, 2017
Tiny PNY Elite Portable SSD unveiled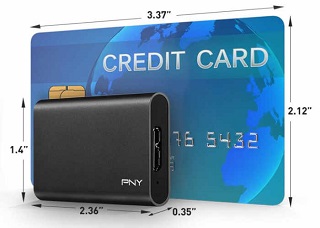 PNY Technologies has launched one of the smallest pocket-sized design SSDs, the Elite Portable solid-state drive, which is a compact mobile storage solution for anyone one-the-go. The PNY Elite Portable SSD is fast, reliable, and more efficient than normal hard disk drives available on the market. The Elite portable is small in size but it can store large memory files such as music, movies, application and software within its 480GB storage space so it's a good option for everyone who wants to backup or transport a large amount of data quickly from one place to another.
Manufactured in smooth aluminum housing, the PNY Elite Portable SSD can transfer and store large files quickly with read speeds up to 430MB/s and read speeds up to 400MB/s. The tiny PNY Elite Portable SSD is based on the latest TLC technology and is backed with USB 3.0 specification and backward compatible with USB 2.0 ports so it can be used with any desktop or laptop model. The drive is compatible with all versions of Windows and Mac OS X systems and is available in 240GB and 480GB storage capacities.
Although the PNY Elite Portable SSDs are more reliable and durable than hard drives, someday they may fall victims to physical or logical failures and the programs and media files stored on them may get inaccessible. To get critical files back, the PNY Elite Portable SSD owners will need to contact a professional data retrieval services provider. Not all US companies that offer qualified data recovery services are capable to handle pocket-sized SSDs and successfully recover intact files because such procedures require state-of-the-art technologies and highly specific software and hardware tools.
ACE Data Recovery team makes the best choice when it comes to retrieving data from failed SSDs because the company's qualified specialists are equipped and experienced enough to deal with any faulty storage units. ACEs have been providing premium data recovery services for more than 35 years and have developed lots of hardware and software tools that allow to recover intact files safe and sound from faulty storage devices considered "unrecoverable" by other companies. ACE Data recovery engineers are the best in the industry, know more about SSD data recovery than anybody else, and can develop custom solutions for unusual cases.