Terramaster T12-423 Celeron based 12-bay NAS
May, 2022
Terramaster T12-423 Celeron based 12-bay NAS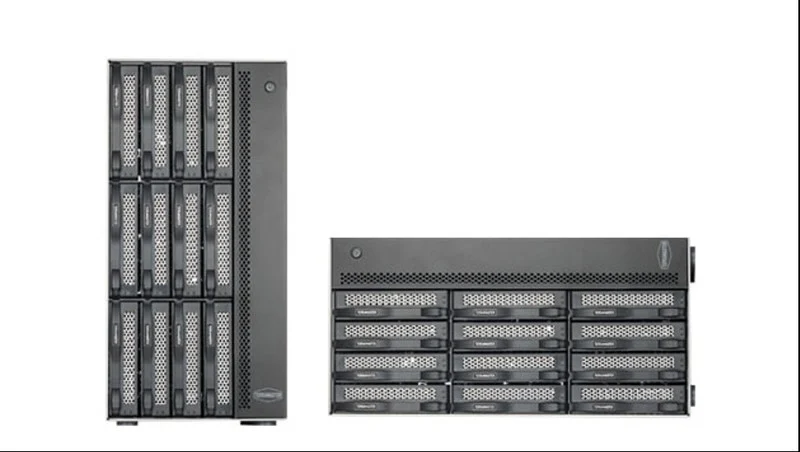 Terramaster continues to roll out their new '423' series of devices and introduces a new 12-Bay NAS solution in the T12-423. The Terramaster T12-423 NAS is their first 12-Bay NAS drive. This new system arrives with a current-gen server-grade Intel CPU, improved network connections, and a tower-style of desktop chassis.
The TerraMaster T12-423 12-Bay NAS is suitable for SMB users who need high-performance storage solutions. It uses an Intel Celeron N5105/ N5095 quad-core processor with 2.0 GHz and maximum turbo to 2.9 GHz. The TerraMaster T12-423 12-Bay NAS is integrated with a GPU graphics card, AES NI hardware encryption, and equipped with two 2.5 GbE interfaces and 8 GB DDR4 dual-channel memory (expandable up to 32 GB). The TerraMaster T12-423 has 12 bays that support 3.5" HDDs and 2.5" SSD/HDDs, up to 240 TB of internal raw storage capacity. It has two M.2 slots for NVMe SSDs for SSD caching.
The T12-423 NAS is compact for its class and supports vertical and horizontal mounting orientations to better satisfy the usage requirements of small-sized business users with limited space. To keep storage drives cool in 24/7 operation, the Terramaster T12-423 NAS is fitted with three silent fans to deliver efficient cooling. Furthermore, the T12-423's power supply is also fitted with a cooling fan to keep it cool independently.
The T12-423 NAS supports rich RAID redundancy types, including Single, RAID 0, 1, 5, 6, 10 to cater to different needs and data protection. It also supports popular file management services, including SMB, AFP, SFTP/FTP, iSCSI, NFS, and WebDAV to satisfy file management requirements in different network environments.
The professional compact Terramaster T12-423 NAS can deal with high-load workflows and a high level of concurrent user access. It is a good option for SMB's data management, but it's also vulnerable to logical and physical failures, resulting in critical NAS data inaccessibility, like any other storage devices. Then, the owners of the Terramaster T12-423 Celeron based 12-bay NAS will need to contact a reliable professional data recovery services provider to get their irreplaceable files and documents back.
ACE Data Recovery engineers can successfully recover data from all types of storage media, including NAS of all makes and models. ACEs are ready to help to recover data from Terramaster T12-423 Celeron based 12-bay NAS.