TerraMaster T9-450 and T12-450 Desktop NAS: High-Speed Storage Solutions for Demanding Applications
April, 2023
TerraMaster T9-450 and T12-450 Desktop NAS: High-Speed Storage Solutions for Demanding Applications
TerraMaster is a professional brand that specializes in innovative storage products for homes and businesses. Recently, they released two new models of desktop NAS, the T9-450 and T12-450, which feature high-speed dual SFP+ 10Gb ethernet interfaces. These models are part of TerraMaster's desktop NAS series with 10Gbe Intel processors, and they are designed for professionals who require high-speed and high-volume applications such as virtualization, databases, image and video content creation, and more.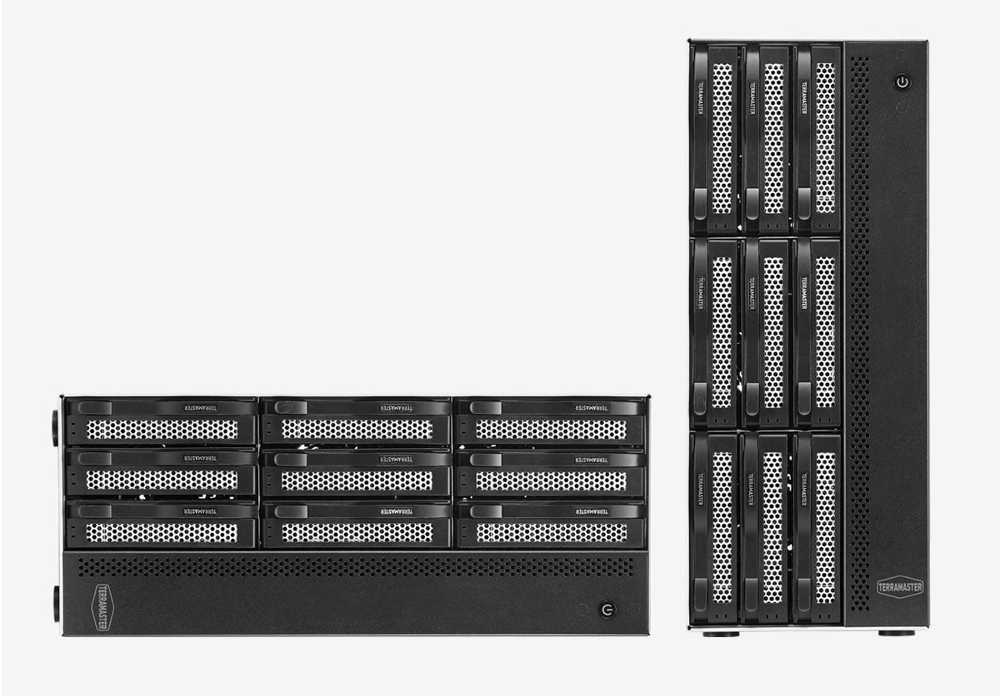 TerraMaster T9-450 and T12-450 10Gb NAS Features
With the development of multimedia production and broadcasting technology, film and television works are now being produced in high-definition, 4K, or even 8K environments. This means that the size of a single video material can reach dozens or even hundreds of GB, making storage space, reliability, and transmission performance increasingly challenging. The TerraMaster T9-450 and T12-450 10Gb NAS storage solutions address these issues by connecting to workstations through the SFP+ 10Gb ethernet interface on the devices. This allows dozens of workstations to access storage and post-editing simultaneously, while also supporting two 2.5GbE network interfaces for convenient and flexible maintenance of non-linear edit network system equipment in different network environments.
TerraMaster T9-450 and T12-450 Hardware Configuration
The T9-450 and T12-450 models feature an Intel Atom C3558R quad-core processor with a main frequency of up to 2.4GHz, 8 GB DDR4 dual-channel memory (up to 32 GB), dual SFP+ 10Gb ethernet interfaces, dual 2.5GbE interfaces that can aggregate Link Aggregation through the network to provide up to 20Gb transmission bandwidth, and support for 2 x M.2 NVMe SSD for cache acceleration. These models are specially developed for users who need high-speed storage and meet the demanding requirements of 4K video editing for storage performance.
By building a 10Gb network, multiple Windows and Mac workstations can be connected to T9-450 or T12-450 at the same time, making the collaborative operation of online editing of multi-track 4K materials, special effects production, video synthesis, and import and export of lens clips easy. This greatly improves work efficiency and reduces the production time of the project. Additionally, the models support TRAID protection, regular NAS system snapshots, and TerraMaster's unique one-click security isolation mode, which provides effective emergency recovery protection against virus and ransomware attacks.
TerraMaster NAS Reliability Data Protection and Restoration
In addition to their impressive specifications, the T9-450 and T12-450 also offer a user-friendly interface that makes them easy to use and manage. TerraMaster's TOS (TerraMaster Operating System) provides an intuitive web interface that allows users to easily manage their storage and customize their settings. The TOS also includes advanced features such as App Central, which allows users to download and install a variety of apps to extend the functionality of their NAS.
Furthermore, the T9-450 and T12-450 are designed to be reliable and durable. The models feature a sturdy metal chassis and a smart fan system that ensures the system runs at optimal temperatures while minimizing noise levels. The models also have a power supply unit that provides stable power to the system, reducing the risk of data loss due to power failure.
TerraMaster Compatibility with Various Non-linear Software
TerraMaster's T9-450 and T12-450 are ideal for businesses and individuals who require fast and
reliable storage solutions
for their high-performance applications. These models are suitable for a wide range of applications such as video editing, multimedia production, and data backup. The high-speed dual SFP+ 10Gb ethernet interfaces make it easy to transfer large files quickly and efficiently, while the TRAID protection and regular
NAS system snapshots
ensure that your data is safe and secure.
Overall, TerraMaster's T9-450 and T12-450 desktop NAS models are powerful and versatile solutions that provide high-speed storage for demanding applications. With their advanced features and user-friendly interface, these models are an excellent choice for professionals and businesses who require fast and reliable storage solutions.
TerraMaster NAS data recovery services
ACE Data Recovery offers data salvaging for a wide range of NAS products in case of data loss due to hardware failures or other issues. ACE has a team of TerraMaster data recovery experts with years of experience in data recovery, who can help recover lost or damaged data from TerraMaster's NAS devices. This service provides peace of mind for businesses and individuals who rely on their data and need to ensure that it can be recovered in case of a disaster. In addition to the data recovery service, ACE Data Recovery provides comprehensive technical support, ensuring that their customers have all the requested information.