TerraMaster F4-421 (2021) NAS RAID Server
December, 2021
TerraMaster F4-421 (2021) NAS RAID Server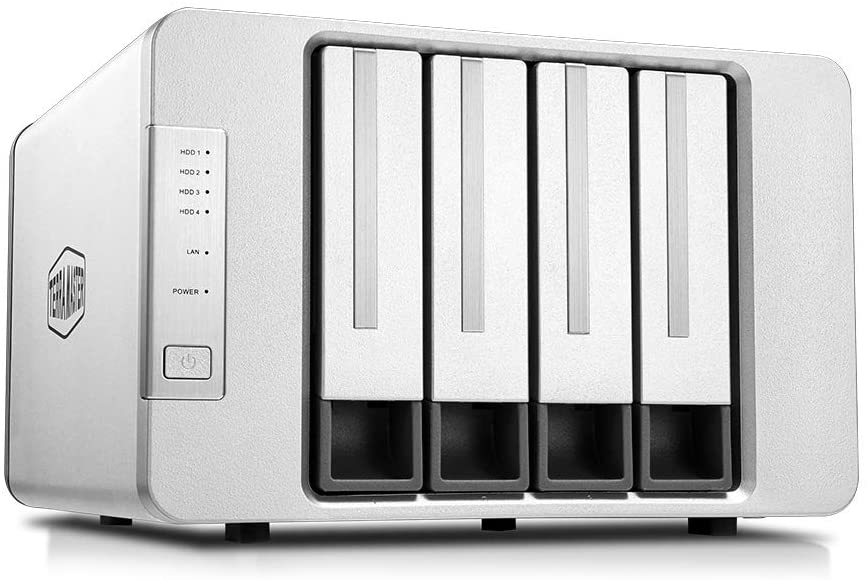 The TerraMaster F4-421 is a four-bay network-attached storage device (NAS) built to handle small-to-medium business storage needs. The TerraMaster F4-421 NAS is relatively easy to install and can accommodate up to 64TB of (internal) storage with multiple RAID recovery options. The F4-421 NAS comes equipped with dual LAN ports with link aggregation, dual USB ports, and an HDMI port.
The TerraMaster F4-421 features a quad-core Intel Celeron J3455 running at 1.5GHz with a max burst of up to 2.3GHz. There is 4GB of RAM soldered on board, and there is also an expansion slot for adding up to 4GB more. All-in-all, the TerraMaster F4-421 (2021) can handle almost all data processing needs, from transcoding media to AES encryption to backups to RAID. The TerraMaster F4-421 NAS supports multiple RAID types, including Single, JBOD, RAID 0, RAID 1, RAID5, RAID 6, and RAID 10.
Like any other TerraMaster NAS, the F4-421 (2021) runs the company's Linux-based TOS, which is short for TerraMaster OS. It presents an easy-to-use graphical environment that looks like a mix of Windows and the old Mac OS X. The OS comes with several utilities out of the box for managing files, users, disks, and RAID configurations, but its true power comes from the apps. TOS doesn't have as many apps on its catalog but it has the essentials, like media servers (Plex), torrent clients (Transmission), backup sync to Dropbox or Google Drive, and the like.
The TerraMaster F4-421 is an affordable NAS that is good as a backup solution for both small businesses and home users, but nevertheless it's also vulnerable to logical NAS drives failures that can result in critical data inaccessibility. If that happens, the owners of the TerraMaster F4-421 NAS will need to contact a professional data recovery services provider like ACE Data Recovery to get their data back. ACE Data Recovery team can successfully recover data from all types of storage devices, including NAS and is ready to help the TerraMaster F4-421 NAS data recovery needs.