TerraMaster F2-422 2-bay NAS Appliance
November, 2020
TerraMaster F2-422 2-bay NAS Appliance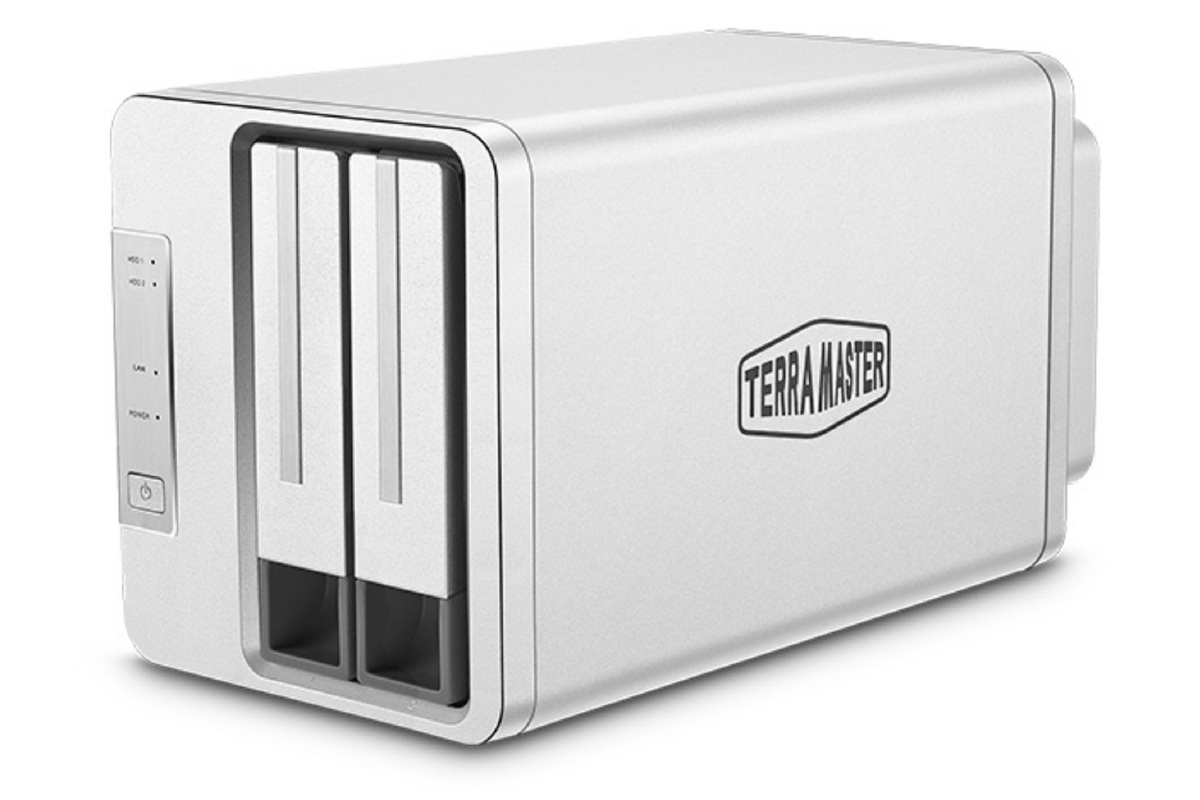 The TerraMaster F2-422 NAS is a ten gigabyte Ethernet (10GbE) 2-bay professional network attached storage device designed for small to medium businesses. For a small two bay NAS, the F2-422 has some pretty impressive specification sheet. The F2-422 NAS is powered by an Intel quad-core 1.5 GHz (turbo boost up to 2.3 GHz) processor with 4GB (upgradeable to 8) DDR3 memory, a 10Gb Ethernet port, two 1Gb Ethernet ports, and AES NI hardware encryption.
Both bays can accommodate either 3.5″ SATA HDD, 2.5″ SATA HDD, and/or 2.5″ SATA SSD drives. The maximum amount of storage capacity with the F2-422 is 32GB, and everything is cooled by a single 80mm fan on the rear of the NAS. The 10Gb port allows for transfer speeds of up to 10MB/s, about 10 times that of a normal 1Gb port.
TerraMaster continus to use the same design with an all-aluminum finish look and metallic feel throughout, making the NAS enclosure look far more expensive than it is. On the front, there are some LED status indicators, the two drive bays, and the power button. The rear of the enclosure features the LAN ports, two USB 3.0 ports, AC power input, and HDMI out. This HDMI port is ideal if you want to use the NAS as a media center with Plex Media Server.
The NAS supports RAID 0, 1, 5, 6, 10, JBOD, Apple Time Machine Backup, Cloud Migration and Synchronization, NAS to NAS Rsync Support, Plex Media Server, Docker, Mail Server, Web Server, DLNA Media Server, WordPress Server, Download Server, and Snapshot Support.
The TerraMaster F2-422 is a good option for users who need 10Gb network speeds, want a budget-friendly NAS to set up a home file server or are looking for a compact NAS for the home office. These devices are easy to setup, zippy, responsive, and simple to manage, but nevertheless, NAS can fall victim to failures that make data inaccessible. If that happens, ACE Data recovery team is ready to help the owners of the TerraMaster F2-422 with data recovery needs.