TeamGroup has announced T-Force Cardea Z540 PCIe 5 SSD
March, 2023
TeamGroup has announced T-Force Cardea Z540 PCIe 5 SSD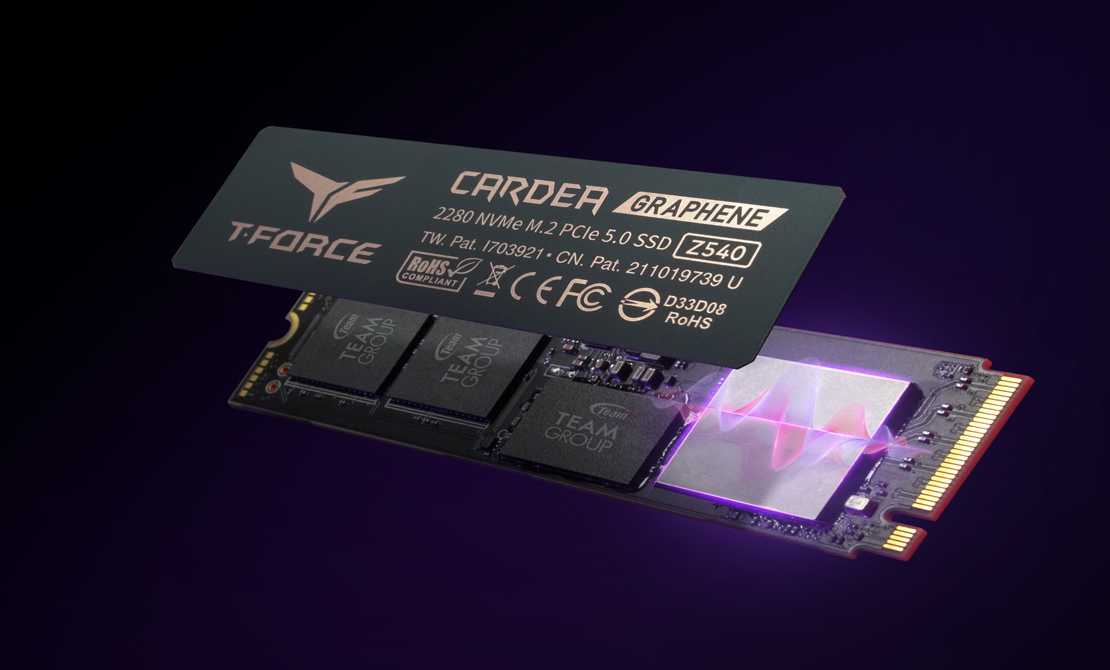 Fast PCI Express 5.0 solid-state drives are finally starting to show up, and they bring to the table next-generation data transfer speeds that hit 10GB/s (10,000MB/s) or even higher. Such is the case with TeamGroup's newly unveiled T-Force Cardea Z540 SSD that is available in a capacity of 2TB.
The theoretical maximum bandwidth afforded to PCIe Gen 5 SSD drives with an NVMe x4 interface (which leverages four lanes) is around 15.8GB/s. That is double the ~7.8GB/s of PCIe Gen 4 SSDs, although we are not going to see any SSD drives that tout the full bandwidth offered because of overhead and other factors.
Based on TeamGroup's rated specifications, the Cardea Z540 SSD comes impressively close for sequential reads (12GB/s), while the rated sequential write performance remains at 10GB/s. As for 4K random reads and writes, T-Force says its flagship SSD tops out at up to 1.4 million and 1.5 million IOPS, respectively.
Designed with gamers in mind, the T-Force Cardea Z540 M.2 PCIe 5.0 SSD is also equipped with an ultra-thin graphene heatspreader that rapidly and evenly disperses heat horizontally. The Z540's graphene heatspreader is less than 1 mm thick and is compatible with various PCIe 5.0 motherboard heatsinks. T-Force Lab's internal testing shows that combining the motherboard heatsink and graphene heatspreader can lower the operating temperature of the Z540 SSD by 3-5°C compared to using only motherboard heatsinks.
In addition to its patented heatsink design, the company also says the T-Force Cardea Z540 M.2 PCIe 5.0 SSD supports Team Group's patented S.M.A.R.T. monitoring software that allows users to easily track the health and performance of the SSD.
With a 5-year warranty provided by Team Group, the T-Force Cardea Z540 M.2 PCIe 5.0 SSDs will allow gamers to fully enjoy the powerful speeds of Gen 5 without any worries. But, unfortunately, this SSD can also crash, making critical user files inaccessible. Then the owners of the T-Force Cardea Z540 M.2 PCIe 5.0 SSDs will need to contact a reliable data recovery services provider to get their irreplaceable data back. ACE Data Recovery team has extensive experience in recovering data from all types exterhal storage as well as internal NVMe SSD drives and media and is ready to help the T-Force Cardea Z540 M.2 PCIe 5.0 SSD owners with their data recovery needs.