Gen 2 Teamgroup C212 Flash USB Drive
March, 2023
Gen 2 Teamgroup C212 Flash USB Drive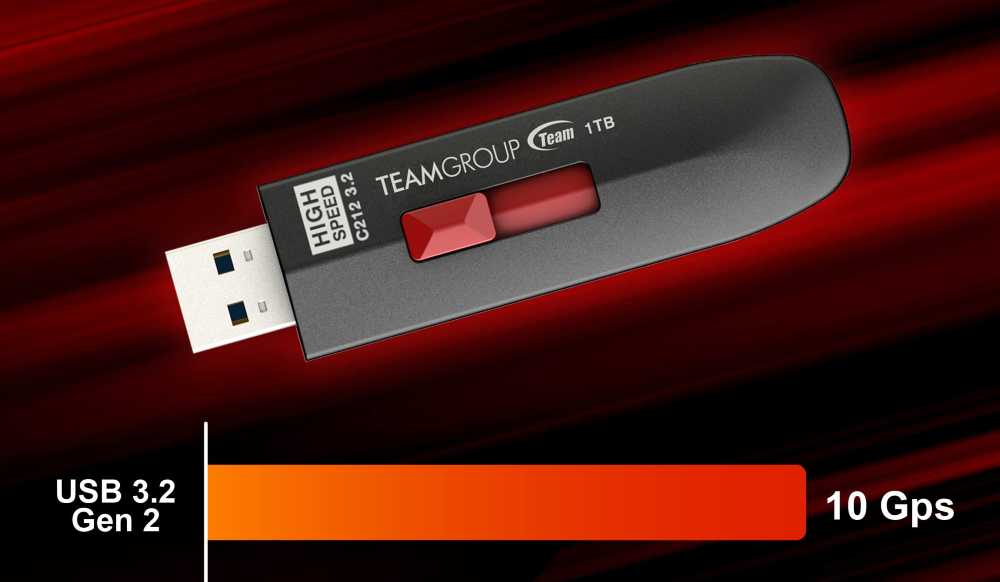 With capacities up to 1TB, USB thumb drives put a lot of cable-less storage in your pocket, but most of them offer slow performance. But Teamgroup's C212 1TB USB flash drive is capable of sustained transfer speeds in excess of 400MBps to 600MBps – almost five times the norm, depending the size of the data set being read or written. That feature puts it on par with the speed of SATA SSDs found inside computers.
The Teamgroup C212 is a USB 3.2 Gen 2 (10Gbps) thumb drive that measures a mere 2.6-inches long (3.08 inches with the connector extended) by 0.8-inches wide, by 0.46-inches thick (including the ejection switch). Its weight is a mere 9 grams and fits comfortably in the inner pocket of a pair of jeans.
The Teamgroup C212 USB flash drive is available in three capacities: 256GB, 512GB, and 1TB. The C212 USB flash drive uses a Type-A connector that retracts into the body of the drive by means of slide switch, which protects the connector when the drive is in your bag or pocket. Teamgroup didn't provide a TBW rating, but the C212 USB flash drive is warrantied for five years that is a very generous guarantee for the category.
With smaller amounts of data, the C212 reaches Teamgroup's claimed read transfer-rate of 600MBps and write rate of 500MBps. That means that for most tasks, users will see the listed performance. And although compared to larger external SSDs, the C212 USB flash drive is somewhat slow, compared to most other thumb drives, it's lightning fast.
The Teamgroup C212 is not the cheapest 1TB flash drive, but it is one of the fastest, and it comes with a five-year warranty, which means that the company will replace it if it fails. But it won't recover lost user data. The owners of the Teamgroup C212 USB flash drives will need to contact a professional data recovery services provider to get their irreplaceable files back. ACE Data Recovery has extensive experience in recovering data from all types of USD flash drives. ACE Data Recovery engineers are ready to help the Teamgroup C212 USB flash drive owners with their data recovery needs.