Synology releases two DiskStation desktop NAS devices
July, 2017
Synology releases two DiskStation desktop NAS devices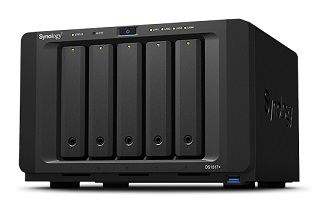 Synology launched the new DiskStation DS1517 and DS1817, powerful and scalable 5-bay and 8-bay desktop NAS that promise to deliver "private cloud" functionality to small and medium-sized businesses. Both DS1517 and DS1817 models can be scaled up to a raw capacity of 150 and 180TB respectively with two DX517 expansion units.
DS1817 is the first Value series equipped with built-in 10GbE LAN ports and an expandable RAM module, delivering future-proof, high-speed storage for professionals and growing small/medium-sized businesses.
The 8-bay DS1817 features a 1.7GHz quad-core processor with room for up to 8GB of RAM. The NAS is capable of speedy performance thanks to built-in 10GbE interfaces, boasting a read speed in excess of 1577MB/s, and a write speed of 739MB/s when configured in RAID 5. Connectivity is via 10GBBASE-T and 1GBASE-T and complete with link aggregation.
The 5-bay DS517 has a similar processor, but the capacity for only 2GB of RAM, with four Gigabit LAN ports. In RAID 5 it's capable of speeds of 449MB/s writing and 436MB/s reading.
According to Synology, the DS1517 and DS1817 are engineered to meet the needs of growing small and medium-sized businesses for a cost-effective storage solution that is versatile and expandable for their future demands, while minimizing the initial investment required. Both DS1517 and DS1817 provide the high performance and flexible scalability to manage, protect, and share data at work.
But, unfortunately, no matter how good new storage devices are, all of them will eventually fail, and NAS devices are no exception. Data loss may be a devastating issue that can affect any enterprise but in most cases, the critical data can be retrieved if you deal with professional data recovery service provider.
Data recovery from a NAS is a challenging task. NAS servers may be a lower-cost RAID-based solution aimed at small to medium-sized companies, but technically, they are as complex and difficult to recover from as some of the high-end storage systems because most NAS systems manufactured today have advanced features similar to those of high-end SANs.
ACE Data Recovery team is able to provide businesses with the expert enterprise data recovery services. ACE Data Recovery engineers have a vast experience in dealing with logical and physical data loss and performed thousands of server data recoveries over the years. ACEs can develop case-specific solutions to solve difficult issues and ensure successful recovery of vital business data.