Synology Announces New DiskStation DS1618+
May, 2018
Synology Announces New DiskStation DS1618+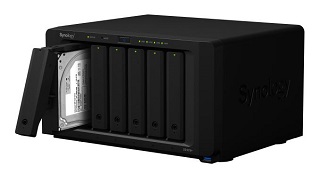 Synology announced the DiskStation DS1618+, a new 6-bay NAS designed for tech enthusiasts and small to medium-sized businesses. The DS1618+ can handle up to six 12TB drives, giving it a total capacity of 72TB and up to 60TB of storage when using a RAID 5 configuration.
The DS1618+ is equipped with a quad-core Intel Atom C3538 CPU and 4GB DDR4 non-ECC SODIMM (expandable by up to 32GB) RAM. As with other NAS models in the DS+ range, the DS1618+ is compatible with the DX517 expansion unit that allows users to add capacity and extra bays just by plugging it in. The new model can connect with two of these 5-bay units to take the total number of drive slots to 16 and the total capacity to 192TB, providing fast-growing companies a data storage solution that scales with their business.
With Synology's M2D17 PCIe adapter card, DS1618+ can house dual M.2 SATA SSD, taking advantage of the SSD cache to boost maximum throughput and reduce the I/O latency. Users can also install a network interface card in the PCIe slot with up to two 10GbE ports for a maximum throughput of 1,551 Mbps reading and 586 Mbps writing. DS1618+ runs on DiskStation Manager, the advanced and intuitive operating system for Synology NAS devices, with quality applications offered to enhance data security and work efficiency.
According to Synology, DS1618+ is the perfect all-in-one solution for file serving, application hosting, data backup, and real-time collaboration. It will help businesses quickly store and manage their most critical data. But, unfortunately, like all storage devices, this 6-bay NAS may fall victim to logical or physical failures that may result in critical files inaccessibility. In this case, owners of DiskStation DS1618+ will need to contact a reliable data recovery services provider.
ACE Data Recovery team has technology and experience necessary to get lost data from any type of storage media. ACE Data Recovery has been providing top-quality data recovery services for more than 35 years and the company's engineers are armed with proprietary techniques and tools to handle any data recovery process. ACEs will welcome the opportunity to help you get your data back.