Surefire GX3 External Gaming SSD
July, 2021
Surefire GX3 External Gaming SSD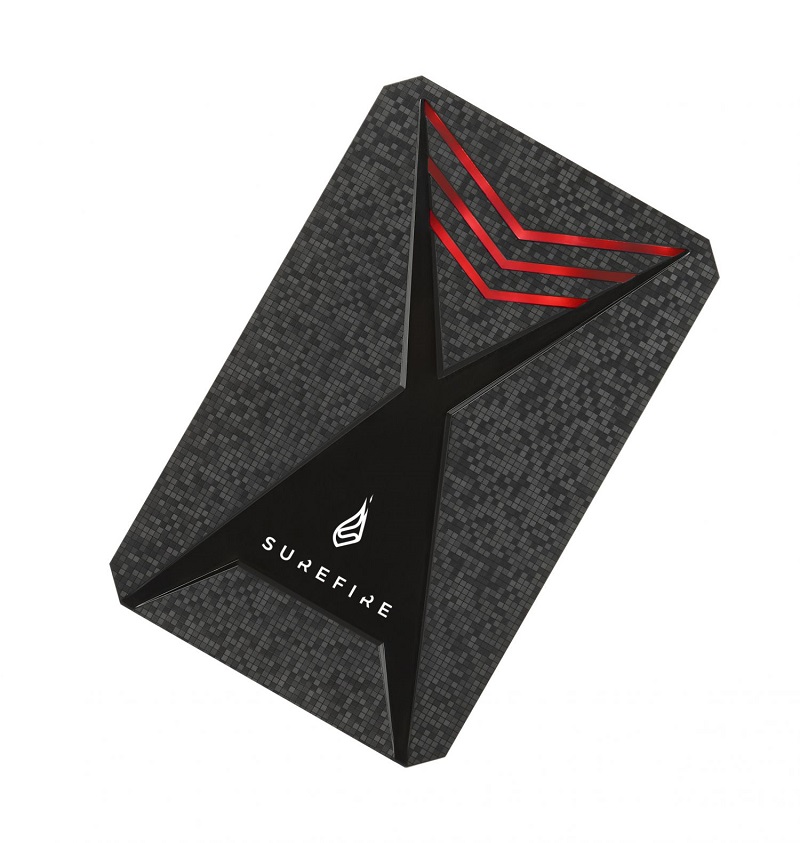 The Surefire GX3 external gaming SSD stands out with its RGB lighting and digital camouflage. And although it's not the fastest external SSD around because it is SATA-based rather than NVMe, but it's still priced pretty near to similarly-performing models.
The GX3 SSD is available in 512GB or 1TB solutions, and this model is only available in Europe. The SSD drive boasts sequential read and write speeds of 450MB/s and 430MB/s respectively, which falls behind the quadruple figures of an NVMe, but these are god results compared to a mechanical hard drive.
The Surefire GX3 gaming SSD uses a Type-A USB 3.2 Gen 1 cable rated at 5GB/s of bandwidth, and there is a USB-C adapter in the box, too, making this drive quite versatile. The GX3 comes in at 12.5cm in length and 8cm in width, so it's a little larger than some of the other external SSDs on the market. But it's not bigger than a smartphone, so it's compact enough to chuck into a travel bag with the best gaming laptop. The Surefire GX3 external SSD is also compatible with any console that supports external storage devices. The GX3 is a solid SSD drive that offers significantly better loading times than a hard drive in the best PC games.
According to SureFire, the new SureFire External Gaming SSDs provide purpose-built extended storage for gamers looking to save their gaming library in a convenient, high capacity, on-the-go device. They are plug-and-play, which allows players to get up and running in minutes, and are compact in size with no power cable, which makes them highly convenient for the living room or to easily take to another location to play there.
But unfortunately, they may fail just like any other storage media, and then, their owners will need to contact a professional data recovery services provider to get their data back. ACE Data Recovery team has extensive experience in recovering data from HDD, SSD and other types of storage devices and is ready to help the Surefire GX3 external gaming SSD owners with their data recovery needs.