Startech releases USB 3.1 Dual 3.5-inch SATA HDD Enclosure with RAID
June, 2017
Startech releases USB 3.1 Dual 3.5-inch SATA HDD Enclosure with RAID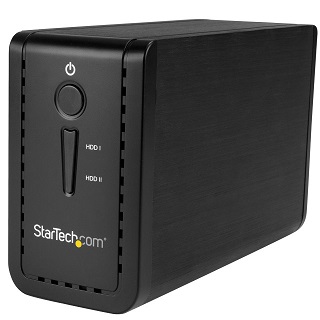 Startech launches a new product - the USB 3.1 Dual 3.5-inch SATA HDD Enclosure with RAID that makes it easy to add high-capacity, high-performance external data storage to your laptop or desktop computer. The dual-bay RAID enclosure supports two 3.5" SATA hard drives with ultra-fast data transfer speeds and configurable RAID modes.
According to Startech, the users will be able to create a high-capacity, external data storage solution with support for two 3.5" HDDs, SSDs or SSHDs. This 2-bay 3.5" drive enclosure delivers fast file transfer rates up to 10Gbps with USB 3.1 Gen 2 performance. It supports SATA I, II and III and is enhanced with UASP to maximize the performance and speed of your SATA III drives.
Users can gain increased storage size, performance, or redundancy with multiple RAID options - the enclosure supports RAID 0, RAID 1, JBOD and SPAN (BIG). The dual-bay drive enclosure includes both a USB-C and USB-A cable for flexible use with the latest laptops and tablets, depending on your connection needs.
The Startech dual-drive RAID enclosure provides an effective solution for creative professionals, office employees, researchers, and medical personnel to store, access, back up, and protect important files. But, unfortunately, HDDs that computer users will utilize within this Startech USB 3.1 Dual 3.5-inch SATA HDD Enclosure with RAID may fall victims of logical or physical failures. In these circumstances, owners of Startech dual-drive RAID enclosure will need to contact a professional data recovery service provider to get the essential data back.
ACE Data Recovery engineers are the best choice when you need to recover your critical files back because they can develop custom-specific solutions to recover any type of files from any type of storage device. The company has a number of full-service laboratories for performing complicated data recovery procedures that require Class 100 cleanroom environment to prevent file corruption. ACEs are the best in the industry and often succeed where other laboratories fail.