New Enterprise 2.5-Inch 6Gb SATA SSD by Curvature
November, 2017
New Enterprise 2.5-Inch 6Gb SATA SSD by Curvature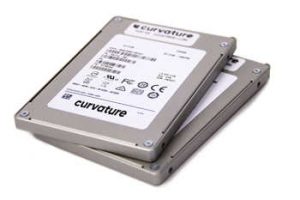 Curvature LLC that provides third-party maintenance and multi-vendor network and data center IT lifecycle services has announced a launch of a new range of read-intensive, energy efficient enterprise-class SATA SSDs. The enterprise-class 240GB, 480GB and 960GB SATA 6Gb/s solid state drives are fully compatible with all the major manufacturer server vendors (HPE, Dell EMC, Cisco, IBM, etc.) using a single firmware.
Offering 2,000,000 power-on hours, together with the performance of 98,000 IOPS of sustained read throughput, these Curvature SSDs are expected to be a major pull for customers running large workloads that require high reliability, low latency, and energy efficiencies. Their convenient SATA interface makes for an easy deployment in legacy server infrastructures.
According to Curvature, the new SATA 6Gb SSDs are an ideal fit for those data centers and server rooms who are running read-intensive server workloads such as read-centric databases, customer-facing web server apps, data analytics, and reporting.
Curvature guarantees that the SSDs are compatible across multiple server manufacturers. They are available at significant savings over manufacturer prices and can be a good alternative to traditional manufacturer but, unfortunately, like any other storage media, they are vulnerable to physical and logical failures that can lead to critical files inaccessibility.
To get critical data back, businesses will need to contact a reliable data recovery services provider like ACE Data Recovery team that is a worldwide leader in providing data recovery services and can boast of the highest recovery rate in the industry. ACE Data Recovery engineers are hired all around the world and are able to recover data from any type of the storage devices regardless of the cause of failure or make and model of the drives. ACEs are armed with proprietary techniques, tools, and experience to handle the most extreme situations of data loss and can successfully recover your data as fast as possible.