SK Hynix lays claim to fastest PCIe 4.0 SSD
May, 2022
SK Hynix lays claim to fastest PCIe 4.0 SSD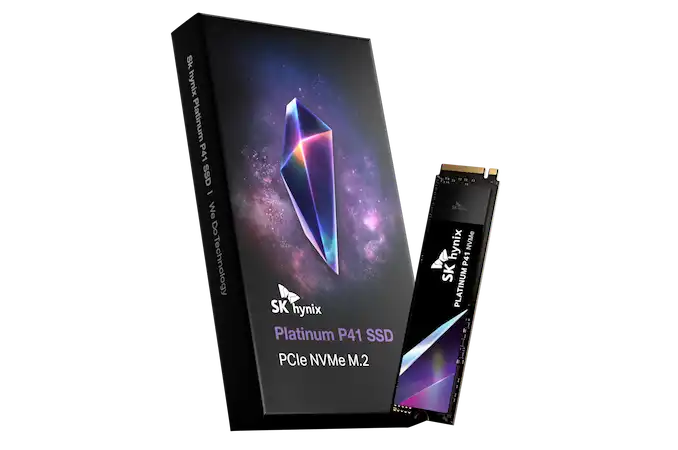 SK Hynix has released the Platinum P41 PCIe 4.0 SSD amid claims of unmatched speeds and reliability. The new SK Hynix SSD drives use the latest technologies from the company to drive forward storage speeds and endurance.
The SK Hynix Platinum SSDs are available in capacities of 500GB, 1TB, and 2TB and feature sequential read speeds of up to 7000MB /s and sequential write speeds up to 6,500 MB/s with. SK Hynix achieves these claimed speeds with its new 176-layer NAND flash, and the Platinum P41 SSD is the first consumer-based drive to use this technology. The 176-layer memory was announced two years ago as an upgrade from its 128-layer NAND. It offers a 20% increase in read cell speed and up to 1.6GT/s of bandwidth between the flash and the SSD controller.
But the most prominent selling point of these SSDs is that they're rated for 1.4 million random read IOPS and 1.3 million random write IOPS, which would make them some of the fastest SSDs on the market. SK Hynix believes that the Platinum 41 series will drive the strongest PCIe Gen4 bandwidth experience for computing needs. The mean time between failures (MTBF) is 1.5 million hours, and for added peace of mind, SK Hynix will offer a five-year warranty with each Platinum P41 SSD.
The SK Hynix Platinum P41 would excel as mixed workload enterprise SSDs, but they are also vulnerable to physical and logical failures, making critical user files inaccessible. Then the owners of the SK Hynix Platinum P1 SSDs need to contact a data recovery services provider to get their irreplaceable data back.
ACE Data Recovery team has been successfully recovering data from different type of HDD storage media for more than 35 years. ACE Data Recovery engineers have extensive experience in dealing with SSD drives of all makes and models, including SK Hynix. ACEs are ready to help with the SK Hynix Platinum P41 SSD data recovery needs.