SK Hynix Launches Gold P31 NVMe SSD
September, 2020
SK Hynix Launches Gold P31 NVMe SSD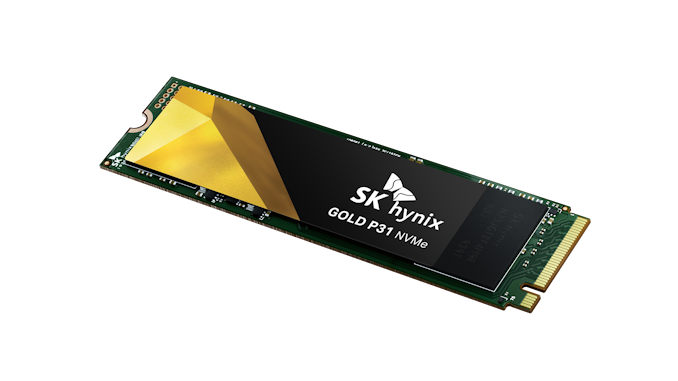 SK Hynix launched the world's first 128-layer 4D NAND flash-based consumer SSD – the SK Hynix Gold P31 PCIe NVMe SSD. It is also SK Hynix's first consumer SSD launched in the US under the SK Hynix brand. The new 128L 3D TLC used in the P31 is Hynix's second generation using what they call a "4D NAND" structure that puts a lot of the memory chip's peripheral circuitry under the array of memory cells instead of alongside.
The Gold P31 is now available in 500GB and 1TB capacities and is targeted towards gamers, designers, and content creators. The Gold P31 SSD supports the PCIe NVMe Gen3 and uses the M.2 2280 form-factor. A forthcoming 2TB model will instead be branded as the Platinum P31, marking it as a more premium product on the basis of capacity alone rather than any major technological difference.
The SK Hynix Gold P31 SSD is quoted to deliver up to 3.5GB/s sequential read and up to 3.2GB/s sequential write, while random performance expected to hit up to 570,000 IOPS read and 600,000 IOPS write (for both capacities). Its reliability has been tested and validated through 1,000 hours of high-temperature operating life tests (HTOL) with the mean time between failures (MTBF) reaching 1.5 million hours. The SSD also comes with a 5-year warranty.
The new SK Hynix Gold P31 NVMe SSDs are good options for gamers and their long hours of play and offer essential performance and stability for designers and content creators. But, nevertheless, the Gold P31 SSDs are vulnerable to SSD firmware logical and physical SSD failures, just like any storage media. If that happens, the proud SK Hynix Gold P31 SSD owners with need to rely on a professional data recovery services provider to get their irreplaceable files and other documents back. ACE Data Recovery team can successfully recover data from all types of storage devices, including NVMe SSD, and can boast of a success rate of more than 97%. ACEs will gladly help the owners of the SK Hynix Gold P31 SSDs with data recovery.