Seagate Launches SkyHawk AI HDD
November, 2017
Seagate Launches SkyHawk AI HDD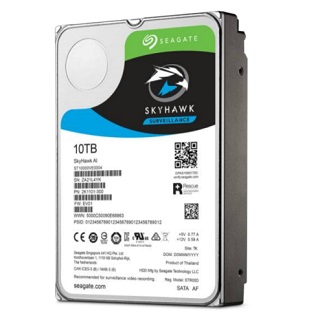 Seagate has released a new family of hard drives for intelligent network video recorders (NVRs) with 'AI capabilities'. These are the first hard drives created specifically for artificial intelligence (AI) enabled video surveillance solutions. The new Skyhawk AI HDDs are built to simultaneously record footage from dozens of HD cameras and provide data for multiple streams used for deep learning, machine learning, and video analytics applications.
The Seagate Skyhawk AI family consists of 8 GB and 10 TB models featuring a 7200 RPM spindle speed, 256 MB cache buffers and SATA 6 Gbps interface. The new hard drives rely on Seagate's seven-disk enterprise-class helium-filled platforms featuring top and bottom attached motors, RVFF sensors, and other enhancements to handle heavy workloads (up to 550TB per year) in vibrating machines featuring 16 or more drives.
The hard drive is equipped with Seagate ImagePerfect AI firmware that builds upon the original ImagePerfect technology from Seagate but has several important enhancements. According to Seagate, SkyHawk AI is ideal for intensive computational workloads that typically accompany AI work streams, as its high throughput and enhanced caching deliver low latency and excellent random read performance to quickly locate and deliver video images and footage analysis. Each SkyHawk AI HDD can record footage from 64 cameras while providing enough read performance for 16 AI streams (8 AI channels).
SkyHawk AI hard drives have the processing power to manage always-on, data-intensive workloads and meet the needs for fast video analytics. However, just like any other storage media, they may fall victims to logical and physical failures that lead to critical files inaccessibility. In this case, businesses will need to contact a reliable data recovery service provider to get their irreplaceable files back.
Being a worldwide leader in providing data recovery services, ACE Data Recovery team offers a wide range of data recovery options and has technology and expertise to recover data from every make and model of a storage media regardless of the initial cause of data loss. ACEs can handle the most extreme situations of data loss and get your valuable data back.