Seagate ships Nytro 141 low-cost consumer SSD
June, 2017
New 10TB surveillance-class hard disk drive from Western Digital
Seagate hasn't released a consumer SSD since the 600 and 600 Pro came to market in mid-2013 but now a 256GB Nytro 141 appears to be available for $85.99 on SuperBiiz. According to a 141 product line data sheet, the new SSD is available in two configurations that offer different benefits for different kinds of end-users. One is optimized for sustained performance with higher endurance, while the other is optimized for maximized capacity. According to the specifications, both configurations feature three-bit per cell (TLC) NAND. The series will ship in the 2.5" form factor with a SATA 6Gbps interface.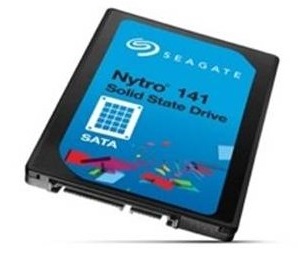 The capacity-optimized version has 256GB, 512GB, and 1TB options and the endurance-optimized has three capacity points - 240GB, 480GB and 960GB. The capacity model replaces the old 600 Client series of consumer SSDs launched in May 2013 with 120GB, 240GB and 480GB capacities. The endurance-optimized Nytro 141 will take on the role of the old 600 Pro low-end server SSD.
Both Nytro 141 SSD configurations are built with advanced data protection, including end-to-end data path protection, SmartECC and a data-coherence mechanism for solid reliability.
According to Seagate, the new Nytro 141 SSD can be used in a wide range of applications as well as in personal computers, workstations, and home NAS devices.
SSD technology is a great way to store information and, as the prices decrease, SSDs become more competitive with traditional storage and are replacing classic disk-based HDDs, but they are also vulnerable to data loss through software corruption, human error or computer viruses. Data recovery from Seagate Nytro 141 SSDs that use NAND flash memory will require advanced technologies and highly specific software and hardware tools and can be very challenging for many US companies that offer data recovery services.
ACE Data Recovery makes the best choice when you need to recover data from failed SSDs. The company's experienced engineers are the best in the industry and know more about SSD recovery than anybody else. ACEs are equipped to handle any data recovery process and are armed with proprietary techniques and tools to recover data from every make and model of the storage media.