Seagate Expands Its Nytro SSD Family
October, 2018
Seagate Expands Its Nytro SSD Family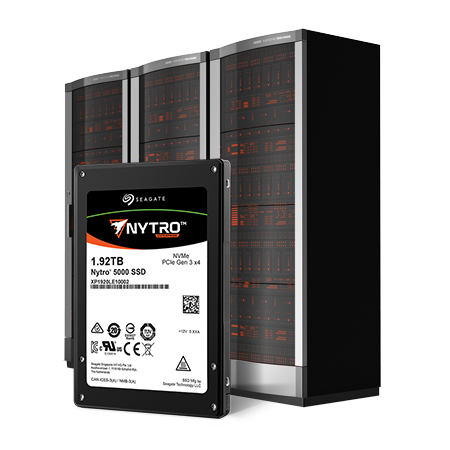 At the 2018 Flash Memory Summit at Santa Clara, Seagate Technology announced that it was expanding its Nytro portfolio adding more enterprise SSD flash drives including the Nytro 1000 SATA and Nytro 5020 NVMe.
The Nytro 1000-series SSDs were designed to replace conventional hard drives commonly found in data centers and, as a result, they utilize a standard SATA connection. They will be available in a wide range of capacities ranging between 240GB and 3.8TB. The Seagate Nytro 1000-series SSDs offer sequential read and write speeds up to 560MB/s and 535MB/s, respectively. Random access performance is rated at 94,000 IOPS reads and 55,0000 IOPS writes.
The new Nytro 1000-series SSDs are based on Seagate's exclusive DuraWrite technology. DuraWrite is a lossless data reduction technique that compresses data that flows through Seagate's controller. This helps reduce the amount of data that is saved onto the flash memory. Seagate claims that its DuraWrite technology delivers "industry-leading write performance and best-in-class read/write performance, up to 2.3X higher than the competition."
The company also says that the Nytro 1000 SATA SSDs have a tunable capacity feature that increases random write performance by up to 120 percent or provides the maximum capacity to the user. The power loss data protection feature helps ensure data integrity and prevent data loss in the event of unexpected power failure, enabling data inflight to be saved into the NAND flash. The new SSD flash drives are more power efficient and cost-effective because they require less energy to run 24x7.
The Seagate Nytro SSDs will be a good option for upgrading the existing storage in data centers but like all SSD flash drives, they may fall victim to logical and physical failures that may result in a loss of critical business data. To get their irreplaceable data back, businesses will need to contact a reliable data recovery services provider.
ACE Data Recovery provides recovery services on a full range of solid state drives. ACE Data Recovery engineers have developed SSD data recovery process that meets manufacturer's requirements and the company's data recovery rate is the highest in the industry. ACEs will welcome the opportunity to help owners of Seagate Nytro 1000 SATA and Nytro 5020 NVMe SSDs in their data recovery needs.