Seagate announces 16TB Exos, IronWolf, and IronWolf Pro hard drives
June, 2019
Seagate announces 16TB Exos, IronWolf, and IronWolf Pro hard drives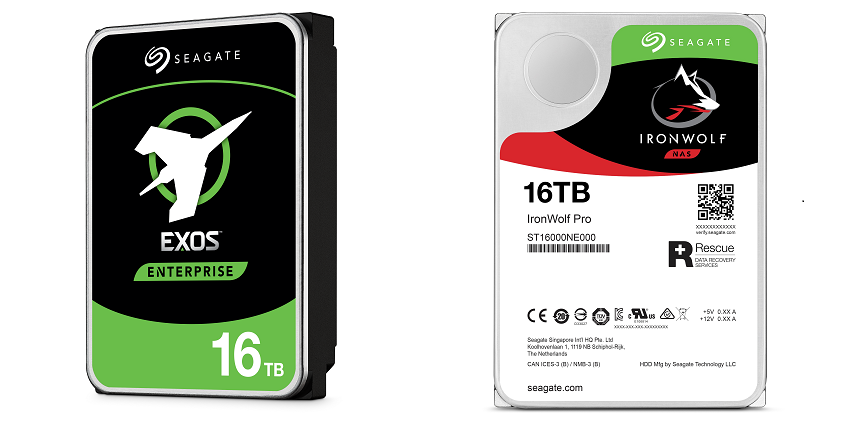 Seagate is launching their 16 TB CMR (conventional magnetic recording) helium drives under two product lines - the Exos X for datacenter usage, and the IronWolf / IronWolf Pro for NAS units. The company has made this leap in order to keep up with the storage demands of the future: it estimates that the amount of data created, captured or replicated across the globe will grow from the current approximate 33 zettabytes (ZB; 2018 figures) to 175 ZB in 6 years.
The company has been actively shipping the Exos X drives to hyperscale data centers, and the launch is geared more towards the retail market. Similar to the currently available 14TB drives from Seagate, the new 16TB variants also use TDMR (two-dimensional magnetic recording) technology for the heads.
The Exos X16 is a 3.5" 7200 RPM drive with SED (self-encrypting drive) options. It is currently the leading capacity point available across all HDD vendors. Seagate claims the new Exos X16 16TB drive delivers 33 percent more petabytes per rack compared to 12TB drives while maintaining the same small footprint for a reduced overall total cost of ownership. Exos X16 offers built-in data protection, including Seagate Secure Instant Secure Erase for safe, affordable, fast, and easy drive retirement.
The 16 TB drives are also being made available under the IronWolf and IronWolf Pro branding. The company says that the IronWolf and IronWolf Pro 16TB drives are built for multi-user NAS environments and can support workloads up to 300TB/year. IronWolf is a good drive for home and small office NAS systems that deliver performance, low noise and low power consumption, making it efficient for everyday use such as back up, remote access and file sharing. IronWolf Pro drives are robust for NAS that operate in creative pro and small-medium business environments that demand heavy workloads to support their data needs.
But no matter how good they are, the new Seagate hard drives may fall victim to logical and physical failures that can make critical business data inaccessible. Then business will need to contact a professional data recovery service with advanced recovery capabilities like ACE Data Recovery. ACE Data Recovery partners with many HDD manufacturers, including Seagate, and their data recovery process meets the manufacturer's requirements. ACEs are excited to see the new Seagate 16TB Exos, IronWolf, IronWolf Pro hard drives and will welcome the opportunity to help their owners with their data recovery needs.