Seagate releases new 12TB BarraCuda Pro desktop HDD
October, 2017
Seagate releases new 12TB BarraCuda Pro desktop HDD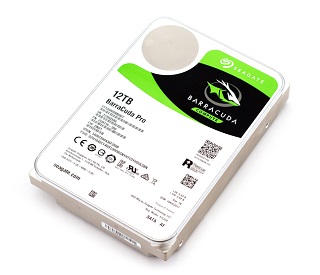 Seagate has launched the latest update to their high-performance desktop 3.5" HDD line in the BarraCuda Pro family. Now available in capacities up to 12TB, the BarraCuda Pro is designed to meet the needs of creative professionals, dealing with massive files, direct attached storage, and home servers, and tech enthusiasts who want the high capacity that 3.5" hard drives offer, with as much performance as possible. According to Seagate, their latest portfolio of 12TB drives are designed for today's media storage needs - including augmented reality (AR), virtual reality (VR), 4K resolution and 360-degree videos - and offer scalability for the future with increased space and speed.
The BarraCuda is a part of its Guardian Series for high capacity storage. The BarraCuda Pro 12TB has a speed of 7200RPM, which makes it the fastest 12TB desktop drive on the market. The drive's high speed means that data-intensive activities like large file transfers and photo-editing are faster when using BarraCuda Pro, Seagate says. The hard drive features a 256MB cache size for faster loading times. By applying intelligent layers of NAND Flash, DRAM and media cache technologies, the BarraCuda Pro 12TB delivers improved read and write speeds alongside optimized data flow for even better and faster overall performance.
The latest Seagate BarraCuda Pro 12TB HDDs seem to be a reliable storage solution but unfortunately, sooner or later, they may fall victims to logical or physical failures just like any other storage devices and their owners might need to contact a reliable data recovery service provider to get their critical files back.
Data recovery from high-capacity HDD requires advanced facilities. Being a worldwide leader in providing data recovery services, ACE Data Recovery team make the best choice when it comes to recovering data from any type of storage device. ACE Data Recovery employs a wide range of state-of-the-art technological solutions, the best engineers hired all around the world and equipped laboratories to ensure effective strategies to recover critical information and handle the most extreme situations of data loss. ACEs will always welcome the opportunity to help BarraCuda Pro owners with their data recovery needs.