This Satechi SSD Enclosure Is a Cost-Effective Way to Boost an Apple Mac's Storage
October, 2022
This Satechi SSD Enclosure Is a Cost-Effective Way to Boost an Apple Mac's Storage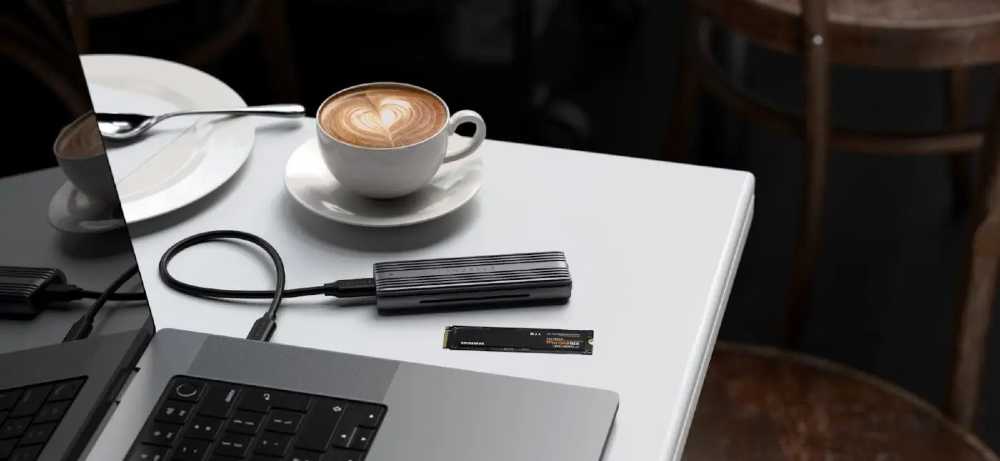 When you buy an Apple Mac, it will come with little amount of storage unless you're prepared to pay a lot of money, and unlike PCs, newer Macs can't have their internal storage upgraded because Apple's storage chips are soldered directly on the motherboard instead of using a connector like SATA or NVMe. But fortunately, Apple users can get more storage recovery for their Macs at a reasonable price using SATA and NVMe SSDs and slotting them into an external enclosure that can be plugged into their Mac's USB port.
Satechi recently announced its USB-C Aluminum Tool-Free Enclosure for housing M.2 PCIe NVMe and SATA SSDs. The new Satechi USB-C SSD enclosure is beautifully made from aluminum and is ribbed on the outside to ensure the SSD inside stays cool and runs efficiently. It doesn't require any tools to set up and comes with a silicone heatsink to help dissipate any heat that builds up in the SSD's memory chips.
Once the SSD is installed in the Satechi enclosure, users can plug it into their Macbooks using a USB-C cable provided in the box. Then they need to initialize the SSD using Apple Disk Utility which can be found in the Utilities folder, which is inside Mac's Application folder. After that, users have to initialize the SSD by choosing Apple's APFS with a GUID partition. That should be good for most people's needs, but there are alternatives if users want to be able to share their data inside the Satechi enclosure with a PC or Linux computer.
Once up and running, Apple Mac users should have minimum real-world read speeds of 390MB/s and 401MB/s for writing, with a first-generation USB 3 interface. And faster ports on later Macbooks will give faster speeds, which are fast enough to backup digital image files and any other data users don't need to store on their Mac's internal SSD for recovery.
The SSD drive enclosure from Satechi is nicely made and feels high quality. It can take M.2 NVMe or SATA SSDs, allowing users to add extra storage to their Apple Mac and store more photos, videos, and documents. But unfortunately, SDDs are more vulnerable to some defects than typical HDDs are, such as abrupt power loss, magnetic fields, and electric charges. Besides, SSDs have a limited number of write cycles, so the ability to write to them will eventually wear out, leading to potential SSD data loss.
Then their owners will need to contact a professional data recovery services provider. ACE Data Recovery team provides recovery services on a full range of solid state drives. ACE Data Recovery is the only company that develops their own in-house proprietary hardware and software specifically to recover SSD drives. ACEs are ready to help Mac users who use the new Satechi USB-C SSD enclosure to add storage to their Macs.