Micron and SanDisk Unveil World's Fist 1TB microSD Cards
March, 2019
Micron and SanDisk Unveil World's Fist 1TB microSD Cards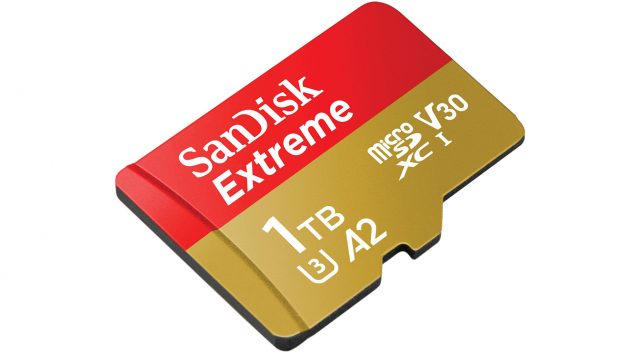 Storage giants Micron and Western Digital's SanDisk brand both announced 1TB versions of their SD cards at Mobile World Congress in Barcelona. In just a couple of months, smartphone users will be able to carry a whole terabyte worth of files on a piece of digital media roughly the size of one of their fingernails.
The new SanDisk Extreme UHS-1 micro SDXC card can record with 90 MB/s write speeds with up to 160 MB/s read speeds. Western Digital says the card can transfer files with twice the speed of standard UHS-1 microSDs. That's paired with 1 TB of storage, designed to expand the memory of a smartphone or to manage large files in action cameras and drones. The card will also launch in a 512 GB version. According to Western Digital, the new speeds are possible due to the company's own flash technology. The card is A2 certified so smartphone and tablet apps will run nicely if users choose to shift them over from the internal storage. As a part of the Extreme line, the card is designed to withstand shock, extreme temperatures, moistures, and X-rays.
Micron also announced a 1 TB card, the Micron c200 1 TB micro SDXC UHS-1. The read speeds are not quite as fast as the SanDisk at 100 MB/s, but write speeds have a slight edge at 95 MB/s and the card also meets A2 specification for running apps. The microSD uses a 96-layer 3D quad-level cell NAND design. Micron calls it "cost-effective".
The SanDisk card will be priced at $449.99 and will be released in April of this year. The pricing for the Micron card hasn't yet been announced although the spokesperson says it will be "priced competitively" and will be released during the second quarter of 2019.
The new Micron and Sandisk 1 TB microSDs can tremendously increase the storage capacity of smartphones and allow users to shoot tons of video but, like all storage media, they can also fail as a result of physical damage or power surge. Then their owners will need to contact a professional data recovery services provider to get their priceless pictures and videos back.
ACE Data Recovery team can successfully recover data from virtually every type and brand of flash memory based storage device ever produced, including microSDs. ACE Data Recovery engineers will gladly help the proud owners of Micron and SanDisk 1 TB microSD cards with their data recovery needs.