Samsung introduces new Portable SSD T5 built with V-NAND technology
August, 2017
Samsung introduces new Portable SSD T5 built with V-NAND technology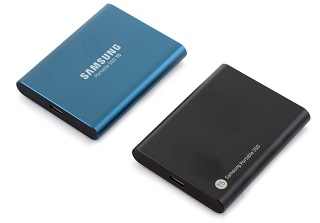 Portable SSDs are becoming popular now because the drives themselves are getting faster and cheaper, and most new computers these days have fast USB 3.1 connections to take full advantage of their speed. Samsung releases a new Portable SSD T5 that has speeds up to 540 MBps and is designed content creators, business and IT professionals as well as mainstream consumers to give instant, easy access to data. The Portable SSD T5 includes a USB-C to USB-C cable, in addition to a USB-C to USB-A cable for backward compatibility, so it can be connected to an extensive range of devices including PCs, Macs, and smartphones. Such speed is on par with Samsung's desktop SATA SSDs, although it is still slower than an M.2 drive.
Samsung's Portable SSD T5 is about the size of a business card and weighs 51 grams. Samsung will offer the drive in four sizes and two colors: 250GB and 500GB in "Alluring Blue," and 1TB and 2TB in "Deep Black."
According to Samsung, as the T5 has no moving parts and a sturdy metal body, it can handle drops of up to 2 meters. It has the optional password protection with AES 256-bit hardware encryption to keep your personal and private data more secure.
The Portable SSD T5 will give computer users simple and efficient access to their documents, large-sized photos or videos so they can complete tasks quickly and on the move but like any other storage devices, these SSDs are also vulnerable to physical and logical failures which usually happen when you least expect them. To get vital files back, the Samsung's Portable SSD T5 owners will need to contact professional data recovery service provider. Data recovery procedures from encrypted SSDs require state-of-the-art technologies and highly specific tools and not all US data recovery companies are capable to handle such processes.
ACE Data Recovery team makes the best choice when it comes to recovering data from failed SSDs because ACEs have technology and experience to recover data even in the most extreme situations of data loss. ACE Data Recovery engineers can develop custom solutions for unusual cases and successfully recover data that other companies can't.