Samsung Announced Speedy New NVMe-based Portable SSD X5
October, 2018
Samsung Announced Speedy New NVMe-based Portable SSD X5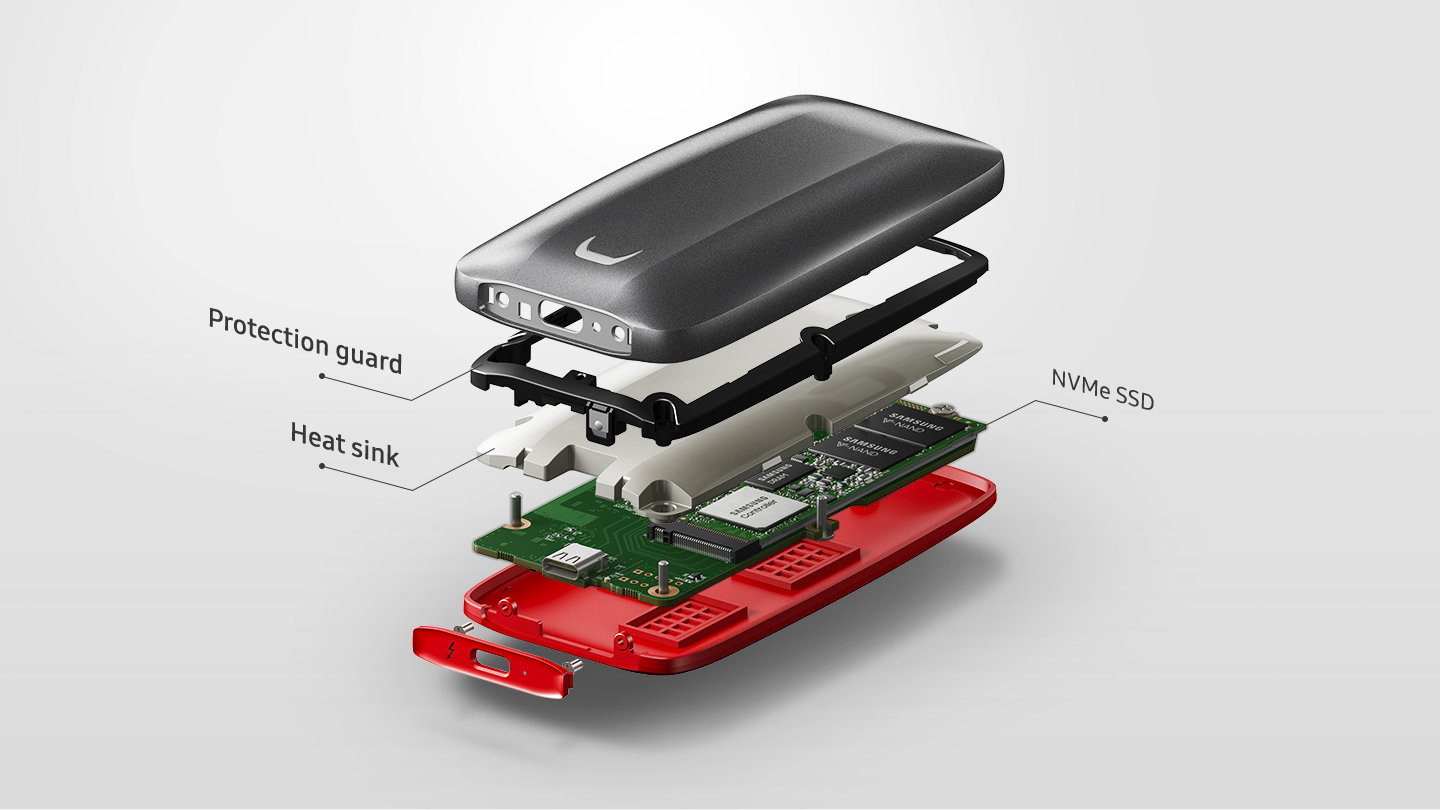 Samsung has launched a portable X-series NVMe SSD with support for Thunderbolt 3. The new Samsung Portable SSD X5 is designed for tech-savvy professionals and, according to Samsung, it can deliver read/write speeds up to 2,800/2,300 MB/s that are 5.2x/4.5x faster than a Portable SSD with SATA interface and 25.5x/20.9x faster than an external HDD. These speeds allow it to transfer a 20GB 4K UHD video file from your PC to the X5 in just 12 seconds.
The drive has been designed for editing 4K videos, creating real-time 3D renderings, and working with extremely high-resolution and data-dense RAW photos. It is plug-and-play and is compatible with both Mac and Windows devices that have a Thunderbolt 3 port – or users will have to buy adaptors.
The X5 runs Samsung's Portable SSD Software which includes AES 256-bit hardware data encryption and optional password protection. The drive also features a shock-resistant internal frame and rugged metal housing designed to withstand falls from up to 2 meters (6.6 feet), while the integrated Dynamic Thermal Guard technology and built-in heat sink keep the unit cool no matter what the workload. The X5 Portable SSDs are available in three capacities - 500GB, 1TB, and 2TB, at prices ranging from 70c/GB to 80c/GB.
The new Samsung Portable X5 SSDs come with a 3-year warranty and make a good option for media professionals that value high-speed portable storage but, like all electronics, they may eventually fail and make valuable files that contain videos, images, hi-res photos inaccessible. Then the owners of the Samsung X5 Portable SSDs will need to contact a reliable data recovery services provider to get their critical files back.
ACE Data Recovery team has a vast experience in recovering data from all types of storage media. ACEs provide recovery services on a full range of solid state drives, including SSDs manufactured by Samsung, and the company's SSD data recovery process meets manufacturer's requirements. Every SSD recovery situation is unique but ACE Data Recovery engineers have developed an advanced SSD drive recovery process and use technologies that allow to read, reconstruct, restore, and recover encrypted data from failed SSDs. ACE Data Recovery professionals have helped thousands of users recover their data and will welcome the opportunity to help Samsung X5 Portable SSD owners with their data recovery needs.