Samsung Launches New 970 Evo and 970 Pro SSDs
May, 2018
Samsung Launches New 970 Evo and 970 Pro SSDs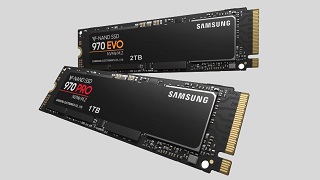 Samsung Electronics introduced the third generation of its consumer SSD line with the release of the 970 Pro and 970 Evo which feature high performance, reliability, and capacity. The new 970 PRO and 970 EVO M.2 NVMe SSDs use a newer Phoenix controller and Samsung's latest 64-layer 3D NAND flash memory.
The Samsung 970 PRO and EVO are designed based on the M.2 form factor standard and with the latest PCIe Gen 3x4 lane interface. Thanks to the new controller, sequential write speeds have improved by up to 30 percent compared to the 960 series. The 970 EVO utilizes the Intelligent TurboWrite technology, which supports up to 78GB of buffer for faster write speeds.
According to Samsung, the 970 PRO enables sequential read speed of up to 3,500 MB/s and sequential write speed of up to 2,700 MB/s1, while the 970 EVO features sequential read speed of up to 3,500 MB/s and sequential write speed of up to 2,500 MB/s. The 970 series SSDs deliver high performance for processing large volumes of data, including 3D, 4K graphics work, high-end games, and data analytics. The key differentiating factor between the two models is the higher write endurance on the PRO series.
The 970 EVO will be offered in 250GB, 500GB, 1TB and 2TB8 capacities, and the 970 PRO in 512GB and 1TB capacities.
The new Samsung 970 PRO and EVO SSDs set a new benchmark for fast storage but like all storage media, they may fall victim to logical and physical failures that will result in critical files inaccessibility. To get their irreplaceable files back, the proud owners of the 970 PRO and the 970 EVO SSDs will need to contact a reliable data recovery services provider.
ACE Data Recovery provides recovery services on a full range of solid-state drives and has a nationwide reputation for industry-leading results. ACEs are armed with proprietary techniques, tools, and experience necessary to successfully get your valuable data back. ACE Data Recovery team makes the best choice when it comes to recovering data from failed SSDs of all makes and models.