Samsung Begins Mass Production of Its Massive 30.72TB PM1643 SSD
February, 2018
Samsung Begins Mass Production of Its Massive 30.72TB PM1643 SSD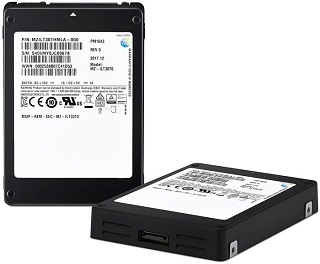 Samsung has announced that it has begun mass production of what the company claims to be the industry's largest capacity Serial Attached SCSI (SAS) solid state drive (SSD) - the PM1643. According to Samsung, the new 30.72TB PM1643 SSD is built on latest 512Gb V-NAND to offer the advanced storage featuring industry-first 1TB NAND flash package, 40GB of DRAM, new controller, and custom software.
The PM1643 is designed for the next generation enterprise applications as Samsung continues to accelerate the growth of all-flash storage arrays and the transition away from traditional hard disk drive technology. Samsung plans to offer other versions of this drive with capacities ranging from 800GB to 15.36TB.
Samsung combines 32 of the new 1TB NAND flash packages, each comprised of 16 stacked layers of 512Gb V-NAND chips. These super-dense 1TB packages are claimed to allow for approximately 5,700 5-gigabyte (GB) full HD movie files to be stored within a mere 2.5-inch storage device.
Performance has been increased as well. Through its 12Gb/s SAS interface, the Samsung PM1643 offers random read and write speeds of up to 400,000 IOPS and 50,000 IOPS, respectively, and sequential read and write speeds of up to 2,100MB/s and 1,700 MB/s.
Samsung was able to make these advances in performance and capacity thanks to 9 controllers that have been integrated into a single package (for greater space efficiency on the SSD) and Through Silicon Via (TSV) technology to provide a faster interconnect for the 40GB of DRAM. According to Samsung, the PM1643 is the first drive in which TSV-applied DRAM has been used in an SSD.
According to Samsung, the PM1643 SSD is opening up new horizons for ultra-high capacity storage systems worldwide and is meeting the growing storage needs in a host of market segments, including the government, financial services, healthcare, education, oil and gas, pharmaceutical, social media, business services, retail, and communications sectors. But, unfortunately, all SSDs are vulnerable to failures caused by abrupt power loss, magnetic fields and electric charges that may result in data loss. In this case, businesses will need to contact a reliable data recovery service provider to get their critical data back.
ACE Data Recovery team developed an advanced SSD drive recovery process that meets manufacturer's requirements. ACEs have technology and expertise to handle the most extreme situations of data loss and can recover data that other companies can't. ACE Data Recovery makes the best choice when you need to recover data from any storage media.