Prototype versions of the Sabrent Rocket X5 SSD are already hitting read speeds in excess of 12 GBps
March, 2023
Prototype versions of the Sabrent Rocket X5 SSD are already hitting read speeds in excess of 12 GBps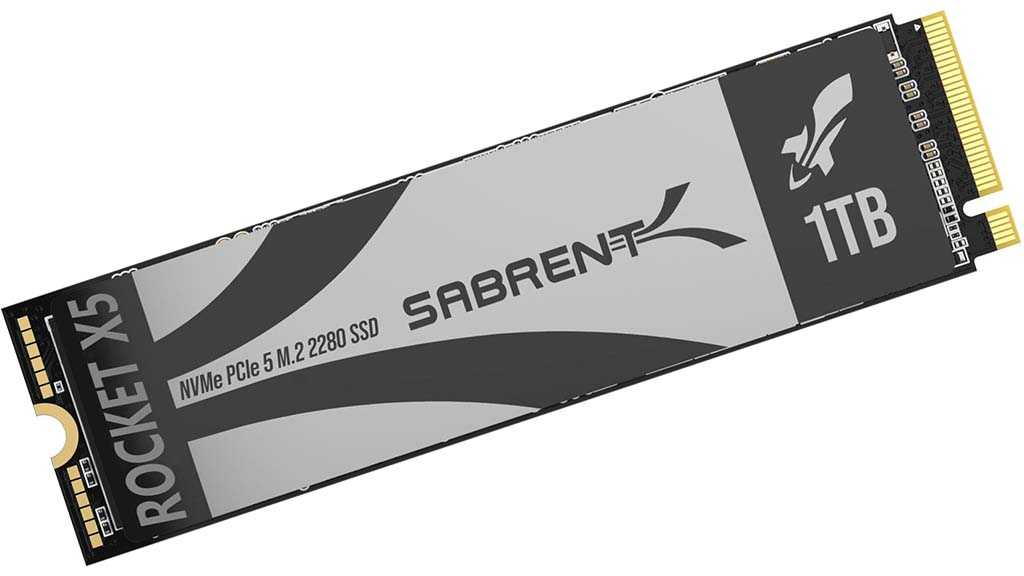 Sabrent is developing a new "Rocket X5" PCIe Gen 5 SSD that has the potential to reach speeds of 14 GBps. This SSD drive is currently in the prototyping stage, and Sabrent is determined to hit the 14 GBps transfer speed target for the finalized product if possible. If the Sabrent Rocket X5 can attain that lofty mark, it will outperform all of the best SSDs on the market today.
The Rocket X5 SSD is in the development phase right now, and Sabrent says the name and label could change before release and the transfer rate. Effectively, Sabrent is trying to push performance as high as current SSD technology allows without other factors getting in the way.
Currently, prototype versions of the Sabrent Rocket X5 SSD are already hitting read speeds in excess of 12 GBps, exceeding the speeds offered by the first PCIe Gen 5 SSDs to hit the market. So it appears Sabrent is making good progress on achieving its 14 GBps goal.
Right now, all PCIe Gen 5 SSD manufacturers are shipping products with either 10 GBps or 12 GBps transfer speeds. And 14 GBps to 15 GBps is the spec limit for PCIe Gen 5 x4, and this is what makes this transfer rate so incentivizing for manufacturers to hit.
The problem is related to production issues surrounding higher speed 2400MTps 3D NAND flash, which is required to hit these higher transfer speeds. Currently, none of the three 3D NAND manufacturers that make 2400MTps chips, including Micron, SK Hynix and YMTC, have been able to deliver large volumes of these chips to the market.
Technically, Micron does not face this problem. The company is well ahead of SK Hynix and YMTC in both maturity and mass production, but it has been dealing with chip yield shortages bottlenecking production. As a result, it appears there is no guarantee the Sabrent Rocket X5 SSD will hit 14 GBps whenever it launches. The X5 SSD drive's final characteristics will depend on Sabrent's production strategy and whether or not the company wants to wait for high-speed 2400MTps NAND flash or skip it entirely and launch the SSD drive with slower specifications.
The new Sabrent Rocket X5 PCIe Gen 5 SSD will allow users enjoy high performance, but, unfortunately, SSDs are not immune to failures that can make critical user files inaccessible. Then the owners of the Sabrent Rocket X5 SSDs will need to contact a professional data recovery services provider like ACE Data Recovery. ACEs are looking forward to X5 PCIe Gen 5 SSDs and are ready to help the Sabrent Rocket X5 SSD owners with their data recovery needs.