Pi Desktop kit turns your Raspberry Pi into a Linux desktop
June, 2017
Pi Desktop kit turns your Raspberry Pi into a Linux desktop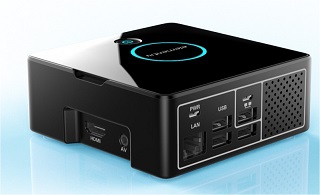 Premier Farnell, the largest manufacture of the Raspberry Pi, has announced the global availability of Pi Desktop, an innovative set of accessories that can turn a Raspberry Pi into a fully featured Linux-based desktop. The Pi Desktop kit includes an add-on board containing: an mSATA interface, an intelligent power controller and RTC, a heat sink, a USB Adapter (Micro-Type A), the RTC battery, all the necessary spacers and screws, and the stylish box to keep it all in.
According to Premier Farnell, when combined with Raspberry Pi, the Pi Desktop provide users with all the functionality one can expect from a standard PC, including Bluetooth, WiFi, a real-time clock, an mSATA solid-state drive interface, an optional camera and a power switch ( although you have to buy a solid-state drive and a camera separately).
The company said the Pi desktop kit can help Raspberry Pi enthusiasts turn their Raspberry Pi into a fully-featured desktop computer within minutes which can be connected to a display via the HDMI interface. Using an SSD with the extended memory capability makes the system highly robust and reliable, and booting the Raspberry Pi directly from directly from the SSD leads to a high-speed start-up experience for users.
Although using an SSD has a lot of advantages, someday it may fall victim of inaccessibility because of careless user actions or physical/logical failure just like any storage device. To get vital files back from faulty SSD, the PI Desktop kit owners will need to contact a professional data recovery services provider. Data retrieval procedures from failed SSDs may be very challenging for many US data recovery companies because they require cutting-edge technologies and highly specific tools.
ACE Data Recovery team makes the best choice when it comes to retrieving data from any type of defective storage devices including SSDs. ACE Data Recovery engineers have necessary knowledge and skills to develop custom solutions for unusual cases and recover data that other companies can't. That makes ACE Data Recovery premium services popular among businesses and households from all over the world.