QNAP launches TS-1277 NAS with AMD Ryzen CPUs
June, 2017
QNAP launches TS-1277 NAS with AMD Ryzen CPUs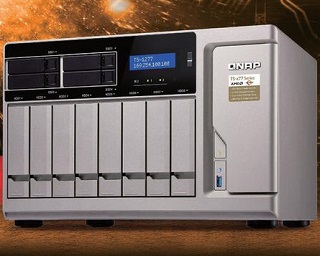 At Computex 2017, QNAP demonstrated its upcoming 12-bay NAS devices, including most notably models powered by AMD's Ryzen processors. The NAS will support HDDs and SSDs in various form factors. QNAP is the first NAS manufacturer to start using AMD's Ryzen processors for network area storage. AMD's CPUs traditionally have strong integer performance making them a good fit for NAS tasks.

The QNAP TS-1277 series NASes are powered by AMD's Ryzen 7 1700 or Ryzen 5 1600 CPUs with eight and six cores respectively and come with up to 64 GB of DDR4-2400 DRAM. All the systems use four GbE ports to connect to networks and have eight 3.5"/2.5" bays as well as four 2.5" bays for various SATA storage devices. As you'd expect for a NAS, there's a multitude of RAID options available, with the NAS hardware able to tap a large number of drives here for RAID 50/60 operation.
The 12-bay TS-1277 NAS will not be the only model based on AMD's Ryzen CPUs from QNAP. Along the high-end SKU, QNAP will also introduce more affordable solutions featuring six and eight bays: the TS-677 and the TS-877 with 250 W and 450 W PSUs, respectively.
The TS-x77 series features a combination of hardware and software that delivers expandability, reliability, and all the tools necessary to satisfy IO/s-demanding workloads and multitasking. The QNAP TS-x77 NAS series provides a good business-ready storage solution for running a range of business tasks (including cross-platform file sharing, backup, DR, and iSCSI and virtualization tasks) but sooner or later storage devices may fall victims to logical or physical failures and large amounts of business-related data may get inaccessible. In that case, businesses might need professional help with retrieving critical information.
ACE Data Recovery team makes the best choice when it comes to retrieving vital data from any type of storage device. ACEs have all the necessary facilities, knowledge and skills to develop highly specific solutions for unusual cases and successfully recover any type of data. ACE Data Recovery experts succeed where other labs fail. With ACEs, you can be confident that all your critical data will be safely retrieved.