QNAP Launches a New RAID Extension Unit with 4 HDD Bays
April, 2019
QNAP Launches a New RAID Extension Unit with 4 HDD Bays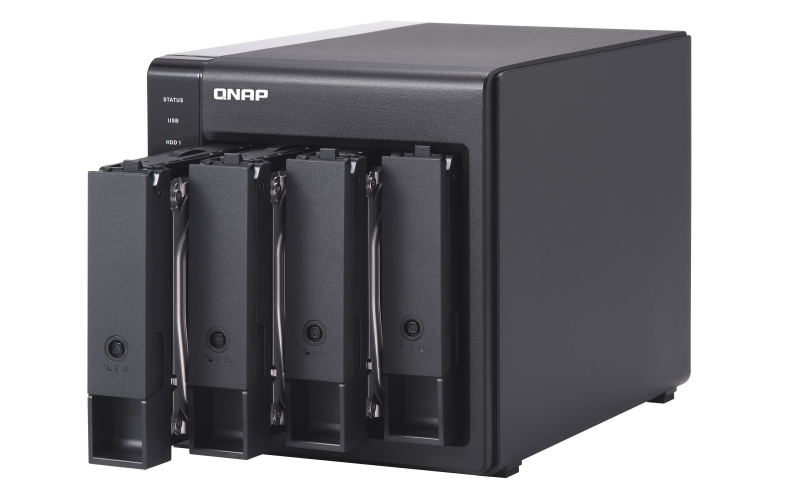 Recently, QNAP launched the TR-004, a 4-bay hardware RAID storage extension unit that can be attached to PC or NAS via USB 3.0 Type-C. The multipurpose TR-004 can be used to add storage space to a QNAP NAS, and can also serve as hardware-based RAID storage for PCs and NAS.
The TR-004 is very flexible for users and offers a convenient way to share files between different platforms, acting as a great intuitive storage solution with high efficiency. QNAP's storage unit offers support for stand alone storage configuration JBOD, as well as support for RAID 0/1/5/10 storage configurations. QNAP NAS users can use the TR-004 together with a current NAS server, including setting up RAID parameters and creating new storage volumes via the "Storage and Snapshots" app over the QTS operating system.
Alternatively, the TR-004 can be used as an external storage device of the NAS. Besides, the TR-004 can be used with computers to make possible file sharing and exchange, and supports the exFAT file system. Computer users with limited storage upgrade options can also use the TR-004 as an extension unit. They can take advantage of a specialized QNAP External RAID Manager utility (Windows/macOS) which can help them view disk health, change RAID configurations, check logs, and update the firmware of the TR-004.
A DIP switch located at the back of the TR-004 can switch the disk configuration of the device. There are also status indicators, a one touch copy button and an eject button to make operations more intuitive. When the host PC/NAS goes to sleep, shuts down, or is disconnected, the TR-004 will also go into the sleep mode to save energy.
The QNAP TR-004 4-bay hardware RAID storage extension devices can be a good cost-effective option for both NAS and PC users but, like all storage media, they may fall victim to logical and physical failures and make their critical data inaccessible. Under such circumstances, the users of the QNAP TR-004 RAID extension units will need to contact a professional data recovery services provider to get their vital files back. ACE Data Recovery team has an extensive experience in recovering data from all types of storage media and can boast of the highest success rate in the industry. ACEs will gladly help the QNAP TR-004 owners with their data recovery needs.