PNY announces high-end 2TB XLR NVMe Gen 4x4 M.2 SSD
June, 2019
PNY announces high-end 2TB XLR NVMe Gen 4x4 M.2 SSD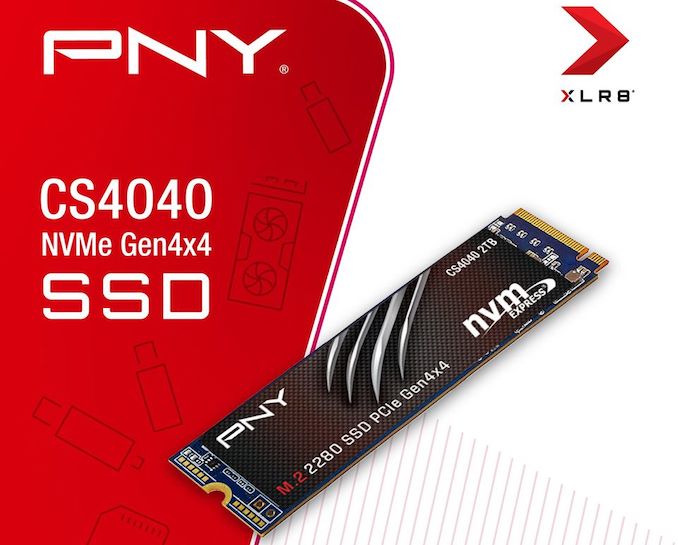 Since many high-end SSDs these days are bottlenecked by a PCIe 3.0 x4 interface, next-generation drives featuring a PCIe 4.0 x4 connector were among the highlights of this year's Computex. Being one of Phison's well-known partners, PNY, a leading global provider of consumer electronics and data storage products, showcased its upcoming XLR8 CS4040 SSD with a PCIe 4.0 x4 interface at the trade show.
The company says the PNY CS4040 SSD PCIe Gen4x4 is the future generation of SSD. It's equipped with the latest technology PCIe 4.0 which can run 16GT/s double the transmission than previous generation.
PNY's high-end XLR8 CS4040 SSD is based on Phison's turnkey PS5016-E16 platform with 3D TLC NAND and will be available in 500 GB, 1 TB, and 2 TB versions. At present, PNY expects the drive to offer up to 4800 MB/s sequential read speed as well as up to 4000 MB/s sequential write speed in case of 1 TB and 2 TB models as well as up to 2100 MB/s sequential write speed in case of 500 GB SKU.
PNY claims it is one of the first leading brands to offer this solution and targets it at the high-end users. According to PNY, the XLR8 CS4040 SSD is designed to be a ultimate solution for the high end users, not only it helps faster boot times, quicker application launches, better overall system performance, it also saves your precious loading times to let you enjoy more on the games/application you are play or working with.
PNY promises the new SSD drives will be available in the third quarter 2019 and will be a good storage option for consumers who are demanding more storage capacity. But no matter how good they are, any SSD drives may fall victim to logical and physical failures. In that case, the proud owners of the new PNY XLR8 CS4040 SSDs will need to contact a professional data recovery services provider to get their valuable data back.
ACE Data Recovery team has been providing high-quality data recovery services for more than 35 years. ACEs can successfully recover data from any device or media and will gladly help the new PNY XLR8 CS4040 SSD owners will their data recovery needs.