PNY EliteX-PRO, a new generation portable SSD
July, 2022
PNY EliteX-PRO, a new generation portable SSD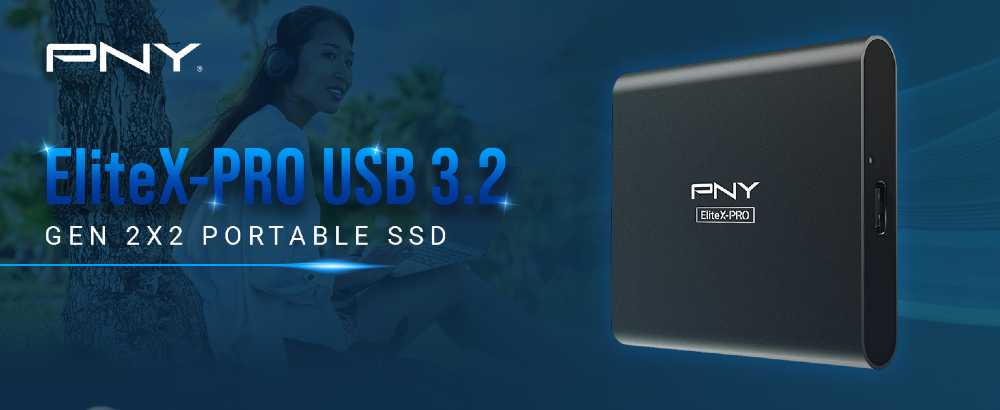 The PNY EliteX-PRO is a new compact and reliable portable SSD storage capable of offering a high level of performance, thanks to its compatibility with the USB 3.2 Type-C Gen2x2 standard, which allows it to exceed the 1,000 MB/s barrier in sequential workloads.
The PNY EliteX-PRO USB SSD has a simple design and is integrated into a square-shaped chassis, which makes it easy to carry and fits in a pocket. Regarding its specifications, this SSD model is capable of reaching speeds of up to 1,600MB/s and 1,500MB/s in sequential read and write. These figures not only far exceed external HDDs, but also beat other external SSDs that are normally limited to speeds of 1,000 MB/s.
The base model of the PNY EliteX-PRO SSD has a storage capacity of 500GB. It's enough for many professionals who need to back up or carry their data, files, and key documents always with them. Along with this version, PNY has confirmed the launch of three more variants, one SSD with one capacity 1TB, another 2TB, and the top-of-the-range version with 4TB of storage capacity.
The casing of all SSD models is made of aluminum, a light but resistant material, include Acronis Data Protection software, and come with a USB Type-C to USB Type-A adapter. Its operation should be totally "plug and play" when used with an operating system that supports USB mass storage units. That means it would be enough to connect it to start using it, users would not have to enter complicated configurations or install any type of additional software.
The PNY EliteX-PRO Portable SSDs are already available, and the maximum read and write speeds vary depending on the storage capacity of each model. Thus, for example, the 1 TB version, which is destined to become one of the most popular, works at 1,500 MB/s and 1,400 MB/s in sequential reading and writing.
The new PNY EliteX-PRO SSDs are ultra-portable for life-on-the go and offer fast transfer speeds up to 12x faster than external HDDs. But they are also vulnerable to logical SSD failures, making critical user files inaccessible. If that happens, the owners of the new PNY EliteX-PRO SSDs will need to contact a professional data recovery services provider to get thei irreplaceable files back. ACE Data Recovery engineers have been proving high-quality data recovery services for more than 35 years and can boast of one of the highest success rates in the industry. ACEs will gladly help the PNY EliteX-PRO SSD owners with their data recovery needs.