PNY announces CS3040 1TB PCIe Gen4 NVMe SSD
April, 2021
PNY announces CS3040 1TB PCIe Gen4 NVMe SSD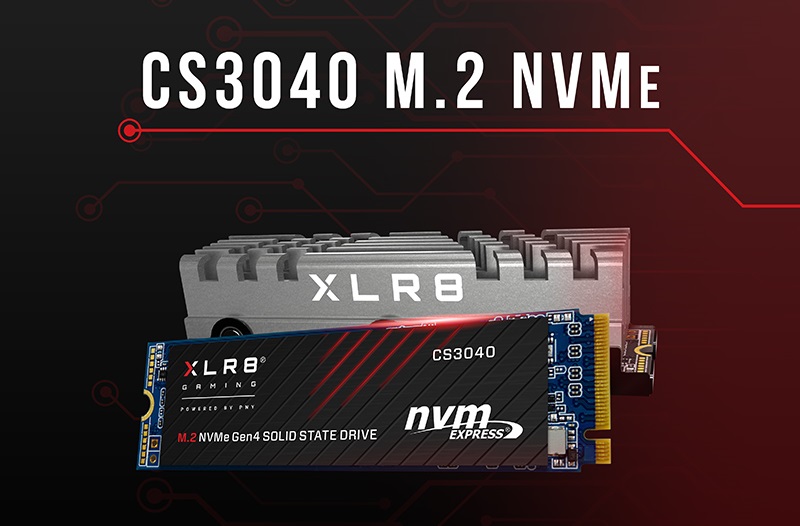 The PNY CS3040 1TB SSD is based on the Phison PS5016-E16 controller, DRAM cache, and Kioxia/Toshiba TLC NAND. The PNY CS3040 1TB comes in a double-sided M.2 2280 (80mm) form factor, and it features a relatively large preinstalled heatsink with eight fins that provide a larger heatsink surface area and optimized airflow for quicker heat absorption and increased thermal dissipation during sustained workloads.
The PNY CS3040 line of TLC-based SSDs is supposedly available in sizes ranging from 500GB to 4TB. The PNY 1TB drive is in the lower middle of that range, but its read and write performance specs are the same as the higher capacity 2TB model. They are 5600 MB/s read and 4300 MB/s write. The CS3040 SSDs support the latest NVMe Gen 4.0 protocol, enabling extreme data access speeds far faster than PCIe 3.0 drives are capable of.
Interestingly, the 4TB model has both lower write speeds as well as a huge drop in rated endurance compared to the rest of the line. With the exception of the 4TB drive, the CS3040 line enjoys excellent rated endurance, and the PNY CS3040 1TB solid-state drive is rated at 1800TBW. The SSD drive is compatible with various platforms and multiple operating systems and comes with 5 year warranty.
PNY CS3040 1TB PCIe Gen4 NVMe SSDs are a good solution for PC enthusiasts, gamers, and video rendering professionals to upgrade to the latest in NVMe technology. But, unfortunately, they may also fall victim to physical and logical failures just like any other storage media. If that happens, the owners of the PNY CS3040 1TB PCIe Gen4 NVMe SSDs will need to contact a professional data recovery services provider to get their valuable data back.
ACE Data Recovery team has been providing premium data recovery services for more than 35 years, and our engineers can boast of the highest success rate in SSD data recovery. ACE Data Recovery is ready to help the PNY CS3040 1TB PCIe Gen4 NVMe SSD owners with their data recovery needs.