Pioneer Launches XS02 Portable SSD
February, 2018
Pioneer Launches XS02 Portable SSD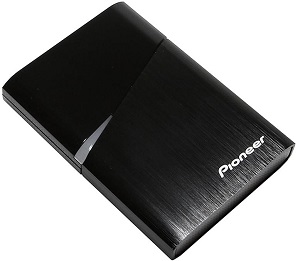 Pioneer has many years of experience in the optical disc, computer equipment, auto and industrial markets. Recently the company has made the leap into the consumer electronics market and launched its all-new USB Type-C Series which include a docking station, multiport adapter, and external Portable SSD and more.
The new portable Pioneer SSD is the XS02 and it is a budget-oriented drive. The new Pioneer XS02 Portable SSD has a USB-C Gen2 high-speed interface with a transmission speed of up to 480MB/s. It is robust and vibration-resistant. The SSD supports the Mac and Windows OS to adjust to the needs of a large number of users and enables smooth file transfer. The XS02 Portable SSD is a slim and compact device, so users can easily take it anywhere. The SSD is made of the composite material and is unique in appearance and design.
The new Pioneer SSD is available in two capacities of 120GB and 240GB. With its powerful features and ultra-small size, APS-XS02 can be a perfect portable storage gadget where computer users can store their important documents, 4K videos, and high-resolution photos.
Although SSDs have no moving parts, they are vulnerable to some defects such as abrupt power loss, magnetic fields, and electric charges. Besides, they have a limited number of write cycles so the ability to write to them will eventually wear out, leading to potential data loss.
To get their critical files back, owners of the Pioneer SX02 Portable SSD will need to contact a reliable data recovery service provider. ACE Data Recovery team has a nationwide reputation for industry-leading results, cutting edge-facilities, and experienced engineers hired all around the world. Regardless of the data recovery problem you are facing, ACEs are up for the challenge. ACEs use advanced tools to solve difficult issues and develop custom data recovery solutions for unusual cases. ACEs are always ready to help you recover your irreplaceable data from any type of the storage device.