Patriot launches Viper VPR400 SSD
August, 2022
Patriot launches Viper VPR400 SSD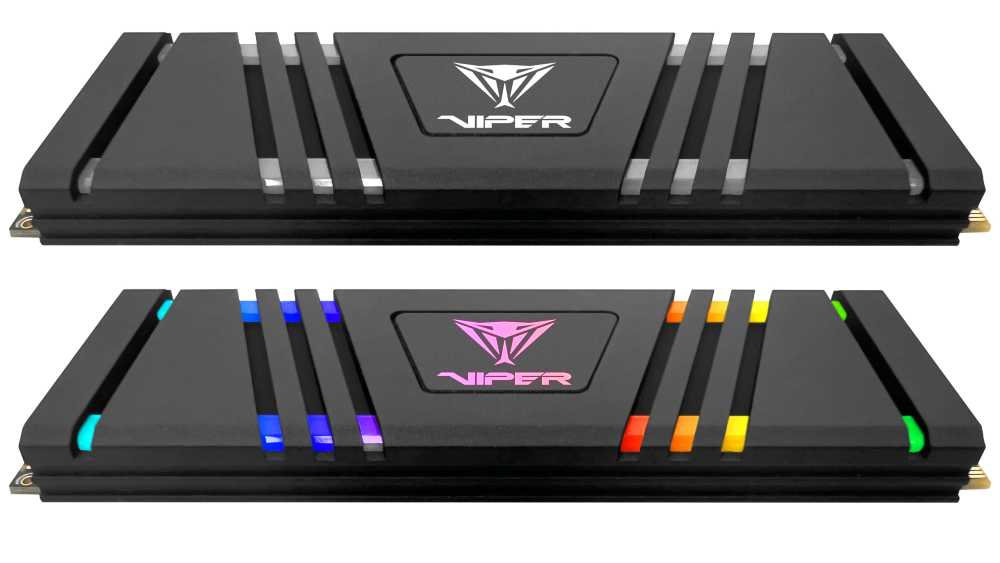 The Patriot Viper VPR400 is a PCIe 4.0 SSD designed with a bright aesthetic in mind. The VPR400 SSD a gaming-oriented version of Patriot's own P400 SSD and comes with a stylish pre-installed heatsink that features bright RGB lighting and has software support for RGB sync. The VPR400 SSD is DRAM-less, but it comes equipped with a fast controller and newer flash that deliver solid performance. The Patriot VPR400 SSD comes in three capacities of 512GB, 1TB, and 2TB.
The VPR400 SSD uses the fast InnoGrit IG5220 SSD controller, which has proven quite popular. It's also equipped with Micron's 176-layer TLC flash, known as B47R, which remains the best flash on the market. The Patriot Viper VPR400 SSD operates on the PCIe 4.0 interface at Gen4 x4 and promises sequential performance of up to 4,600 MB/s reads and 4,400 MB/s writes. Patriot also says that the VPR400 SSD has an advanced temperature control function.
Patriot offers an RGB sync app for download on its website, and it's compatible with the RGB sync systems from ASRock, ASUS, Gigabyte, and MSI. Patriot also promises support for their Viper toolbox, a typical SSD application for information and utility use. The Patriot Viper VPR400 SSDs come with a 5-year warranty and endurance of up to 800 TB of data writes (TBW) at 1TB.
The Patriot Viper VPR400 is the world's first Gen 4.0 NVMe SSD with RGB lighting built right into the heatsink, and that's certainly the main selling point with the brand's new drive. And although the Patriot Viper VPR400 SSDs aren't the fastest Gen4x4 SSDs, they are competitive with middle-class Gen4x4 speed-tier performers. Their performance, warranty, and software support are all strong points, but that doesn't guarantee that the Patriot Viper VPR400 SSDs are protected from logical and physical SSD failures that can lead to data loss. Then the owners of the Patriot Viper VPR400 SSDs will need to find a professional data recovery services providers to get their data back.
ACE Data Recovery team has extensive experience in recovering data from all types of HDD and Networked storage media, including SSDs of all makes and models. ACE Data Recovery engineers have the necessary expertise to help the Patriot Viper VPR400 SSD owners get their data back.