Patriot revealed 12.4 GB/s Viper PV553 PCIe Gen5 x4 SSD at Computex, along with a slew of other new products
May, 2023
Patriot revealed 12.4 GB/s Viper PV553 PCIe Gen5 x4 SSD at Computex, along with a slew of other new products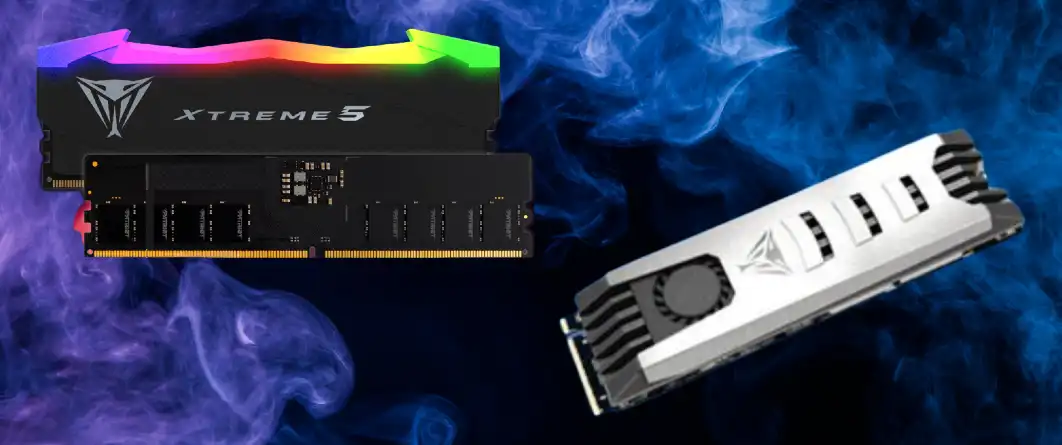 Patriot Memory, together with Viper Gaming and ACPI, will showcase a wide variety of new, upcoming, and flagship SSD products.
The California-based Patriot Group has been teasing a super-fast new SSD that it plans to unveil at Computex 2023 in a few weeks. The Patriot Viper PV553, one of the latest PCIe Gen5 x4 M.2 SSDs, boasts a top transfer speed of 12.4 GB/s. If it lives up to its promise, the new Patriot Viper PV553 could join our list of the best SSDs of 2023. Patriot Memory, a leading manufacturer of high-performance enthusiast memory modules, SSDs, flash storage, and gaming peripherals, is excited to announce that its worldwide team, along with its supporting brands Viper Gaming and ACPI, will attend Computex 2023 in Taipei, Taiwan.
Viper Gaming: Elevating the Gaming Experience
Viper Gaming, Patriot Memory's gaming-oriented brand, will feature several new and upcoming products at the exhibition, including the Viper Xtreme 5 DDR5 extreme performance memory and Viper Elite 5 DDR5 mainstream performance memory, both nominated for the 2023 European Hardware Award. Viper Gaming will also debut its upcoming PV553 Gen 5 x4 SSD. Additionally, Patriot Memory will provide updates on its PCIe Gen 4 lineup, other flagship series, peripherals, and the recently released Viper VXD M.2 SSD Enclosure. ACPI, Patriot Memory's recently acquired industrial division, will showcase its latest flash storage, memory solutions, and other industrial-grade components.
High-Speed Performance and Active Cooling
As the new Patriot Viper PV553 is still in the pre-launch stage, users have limited information about its specifications. For instance, the industry is unaware of the controller or NAND that will be utilized. However, based on its design, it is reassuring to note that the Patriot Viper PV553 appears to come with an active cooler as a standard feature, as opposed to being an optional accessory. At the connector end, a small fan is visible, followed by a fluted and vented design, presumably capped by an aluminum shield. This design has prompted the writer to speculate if covering the various holes could produce some form of music when the fan is running. Additionally, it is worth mentioning that the Viper PV533 seems to forgo RGB LED lighting. If the Patriot Viper PV553 lives up to its performance claims, it could be one of the fastest new generation PCIe Gen5 SSDs available, competing alongside products like the Crucial T700 (which also achieves 12.4 GB/s).
Patriot Viper PV553: A New Breed of PCIe Gen5 x4 M.2 SSD
Patriot intends to launch not only the new PCIe Gen5 SSD but also plans to discuss updates to its PCIe Gen4 SSD lineup at Computex. The company will showcase the Viper Xtreme 5 DDR5 extreme performance memory and Viper Elite 5 DDR5 mainstream performance memory, along with a range of new peripherals and the recently released Viper VXD M.2 SSD Enclosure.
In addition to the exciting product launches and updates, Patriot Group has more in store for Computex 2023. The company has planned engaging presentations and demonstrations to provide attendees with a comprehensive understanding of their cutting-edge technologies.
ACPI: Showcasing Industrial-Grade Storage and Memory Solutions
During the event, Patriot Memory will host live demonstrations showcasing the performance capabilities of their new SSDs and memory modules. Visitors will have the opportunity to witness firsthand the speed and reliability of the Patriot Viper PV553 and other storage solutions. Moreover, Patriot Memory's technical experts will be available to answer questions, provide insights, and offer guidance on choosing the right components for specific applications.
To further engage the gaming community, Viper Gaming will organize interactive gaming sessions at their booth. Attendees can experience the smooth gameplay and enhanced performance delivered by the Viper Xtreme 5 DDR5 and Viper Elite 5 DDR5 memory modules. These modules are designed to meet the demanding requirements of gamers and enthusiasts, offering faster data transfer rates and increased multitasking capabilities.
ACPI, the industrial division of Patriot Memory, will showcase its latest advancements in flash storage, memory solutions, and industrial-grade components. With a focus on reliability, durability, and high performance, ACPI's offerings cater to various sectors such as aerospace, automotive, and embedded systems. Industry professionals and businesses seeking robust and efficient storage solutions will find ACPI's showcase particularly intriguing.
Additionally, Patriot Group will host informative sessions and panel discussions featuring industry experts. These sessions will cover topics ranging from the future of storage technologies to the impact of DDR5 memory on system performance. Attendees will gain valuable insights into the evolving landscape of storage and memory solutions, helping them stay ahead of the curve in their respective fields. To ensure a memorable experience for visitors, Patriot Group has also planned exciting giveaways and contests. Lucky attendees will have the chance to win premium SSDs, memory modules, and gaming peripherals, allowing them to enhance their computing and gaming setups.
Overall, Patriot Group's presence at Computex 2023 promises to be a highlight of the event. Their lineup of innovative products, engaging demonstrations, and informative sessions will captivate the audience and solidify their position as a leading provider of high-performance storage and memory solutions.
Reliable Data Recovery Services for Patriot Viper PV553
ACE Data Group understands that data loss can be a distressing experience for users and businesses, and they strive to provide comprehensive support, including data recovery services, for their Patriot SSD products. In the unfortunate event of data loss due to SSD hardware failure, accidental deletion, or other unforeseen circumstances, ACE offers professional data recovery assistance to help users retrieve their valuable files and information. With their expertise in SSD technology and advanced recovery techniques, ACE's skilled technicians work diligently to recover data from damaged or inaccessible SSDs. They prioritize the privacy and security of users' data throughout the recovery process, ensuring confidentiality and maintaining the highest standards of data protection. Whether it's personal files, important documents, or critical business data, Patriot Group is committed to assisting their customers in recovering their data and minimizing the impact of data loss on their digital lives.