OWC Envoy Pro FX: A High-Performance External SSD for All Users
September, 2023
OWC Envoy Pro FX: A High-Performance External SSD for All Users
In the world of external SSDs, the OWC Envoy Pro FX stands out as a versatile and high-performance solution that caters to the needs of all computer users. What sets it apart is its ability to seamlessly connect to both Thunderbolt and USB-certified Type-C sockets via its USB-C connection. This flexibility makes it a compelling choice for a wide range of users, whether you're a Mac enthusiast or a Windows aficionado.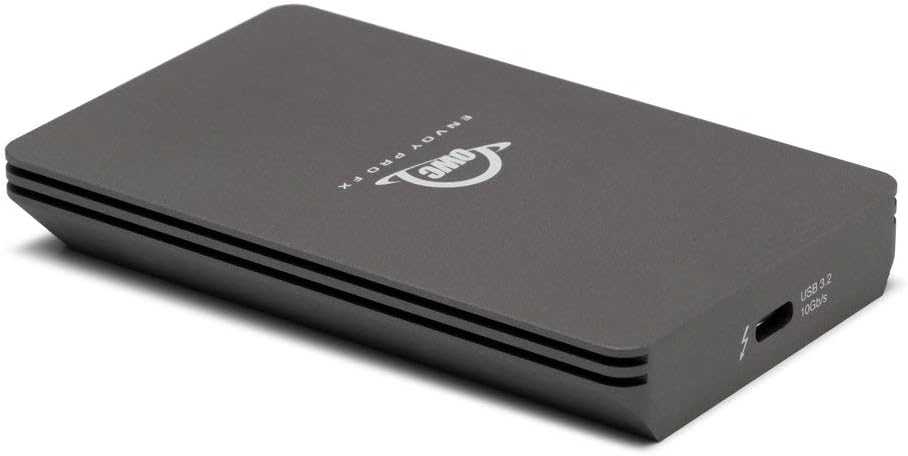 OWC Envoy Pro FX: Versatility Meets Speed
To enable this dual-use functionality, the Envoy Pro FX SSD relies on two bridge controllers, as TB4/USB4 controller chips are not yet available. Depending on the port you connect it to, you can achieve impressive data transfer speeds of up to 40 gigabits per second for Thunderbolt or a respectable 10 gigabits per second in compliance with USB 3.2 Gen2 standards. This means whether you're handling large media files, gaming, or running resource-intensive applications, the Envoy Pro FX has the speed you need to keep up with your demands.
Cross-Platform Compatibility
One of the key highlights of the Envoy Pro FX is its compatibility with both Windows and Mac OS systems, made possible by the inclusion of the OWC Drive Guide software. In a Windows environment, the drive is formatted with the NTFS file system, ensuring smooth and hassle-free operation. For Mac users, it's ready to go right out of the box, offering plug-and-play simplicity.
OWC Envoy Pro Exceptional Benchmark Performance
In performance testing, the OWC Envoy Pro FX exceeded expectations on both Thunderbolt and USB Type-C interfaces, often setting new records. Through the TB3 port, the external SSD achieved blazingly fast read speeds of nearly 3040MB/s and impressive write speeds of up to 2983MB/s, delivering an exceptional overall performance.
Notably, the USB Type-C port also exhibited remarkable performance, achieving read speeds of 1083MB/s and write speeds of 1081MB/s, occasionally surpassing read speeds. This exceptional benchmark performance is further complemented by outstanding real-world performance.
Real-World Speed and Efficiency
When tested with a 4.17GB DVD movie transfer, the Envoy Pro FX portable maintained impressive sequential data transfer speeds. Through Thunderbolt, it reached read speeds of almost 1343MB/s and write speeds of 998MB/s. Similarly, via USB, it delivered efficient performance, reading at 807MB/s and writing at 622MB/s.
Even when dealing with small files, the external SSD didn't disappoint, offering remarkable speeds. Thunderbolt recorded read speeds of around 1342MB/s and write speeds of almost 998MB/s, while USB achieved respectable read speeds of 582MB/s and write speeds of nearly 440MB/s.
Efficient Heat Management
However, it's worth noting that the metal case of the Envoy Pro FX SSD can get quite hot during extended usage, with surface temperatures reaching up to 110°F when connected via Thunderbolt. Fortunately, the well-designed case with side vents allows for efficient heat dissipation. In terms of power consumption, it consumes 3.3 watts in idle mode and 3.7 watts under load.
If you're in search of an external portable drive that can deliver maximum transfer speeds and your computer supports Thunderbolt and USB-C, the OWC Envoy Pro FX is a solid choice. Its outstanding performance, compatibility with both Windows and Mac platforms, and durable design make it a versatile and user-friendly option for a wide audience of computer users. Whether you're a gamer, content creator, or simply need fast and reliable external storage, the Envoy Pro FX has you covered.
The OWC Envoy Pro FX is not just an external SSD; it's a high-performance solution that adapts to your needs, offering the speed, efficiency, and reliability that today's computer users demand. Upgrade your storage experience with the OWC Envoy Pro FX SSD and unlock new possibilities for productivity and creativity.
OWC SSD Data Recovery Services by ACE Data Recovery
ACE Data Recovery is a leading provider of data recovery services for OWC SSDs from MAC and Windows computers. Whether you have an internal or external OWC SSD, we can help you recover your data in any situation.
External OWC SSDs are portable and convenient, but they can also be vulnerable to damage, theft, or loss. If you have lost access to your data on an external OWC SSD, don't panic. ACE Data Recovery can recover data from external OWC SSDs that have been dropped, broken, burned, submerged, or erased.
Our experienced engineers use advanced tools and techniques to recover data from external OWC SSDs of any model, capacity, or interface. We can handle any data loss scenario, from logical to physical, and recover data from any file system, including NTFS, FAT, HFS+, APFS, and more. We can also recover data from corrupted Apple Time Machine backups that are stored on OWC SSDs.
If you have accidentally deleted or overwritten your Time Machine backup, or if your backup is inaccessible due to a hardware failure or a software error, we can help you restore your data. The time it takes to recover your data depends on the type and extent of the damage, but we usually complete the process within 2-5 business days.
We offer a free diagnostic evaluation and a no-data-no-fee guarantee for all our OWC SSD data recovery services. Contact us today to get a quote and start your OWC SSD data recovery process.