Legendary and New : Nokia 3310 is about to return
March, 2017
Legendary and New : Nokia 3310 is about to return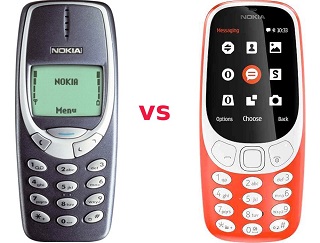 There's great news for those cell phone owners who still remember Nokia 3310. Although the data of sale isn't clear yet (the manufacturing company states the new cell phone will be available in April-June), the item has all chances to become the bestseller.
The rebranded Nokia 3310 will keep all the pros of it's "predecessor" including legendary battery life, low price and Snake game, of course. In addition, new Nokia phone can boast of other features developed from scratch.
Perhaps, some will recall that original Nokia 3310 comes with only 16MB of the internal storage. No doubt, that's absolutely nothing for those people who got used to deal with tons of digital information every day. That is why new Nokia 3310 phone has a slot for a microSD card behind the rear cover.
But no matter how good the upgraded Nokia 3310 is, it may fall a victim of data inaccessibility, just like other devices using portable file storages to keep vital info in safety. Careless human actions, manufacturing defects or physical impact may result in serious microSD card failure. As a result, important contacts may get inaccessible.
To get sensitive information back from a faulty SD card, Nokia 3310 owners will need to call on professional file recovery services. These days there are lots of companies offering qualified data retrieval services to businesses and households. Nevertheless, just some of them are capable to handle microSD cards and recover intact info safe and sound.
ACE Data Recovery team makes the best choice when it comes to retrieving data from a failed SM card. The point is, the company experts are equipped and experienced enough to deal even with severely damaged storage units. And not only that. In case of need, ACE data Recovery engineers can develop highly-specific solutions to piece sensitive information together and recover it from a data storage in one piece.