Nimbus Data announced the World's Largest SSD with 100TB Capacity
April, 2018
Nimbus Data announced the World's Largest SSD with 100TB Capacity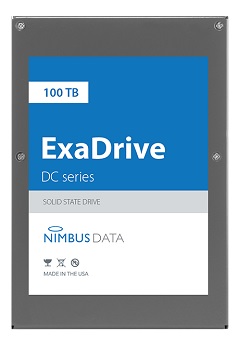 Only a few weeks ago Samsung set a new record for SSD-drive capacity with its latest 30TB model but this achievement didn't stand for long. Nimbus Data, a California-based company that develops advanced flash memory solutions, announced record-breaking 100 TB SSD that offers more than 3x the capacity of the closest competitor.

The Nimbus Data ExaDrive DC100 is currently being tested with select customers and will be available to purchase this summer. The drive is part of the Nimbus Data ExaDrive DC series, which includes both 50 and 100 TB versions of this drive.

According to the company's press release, the DC100 is optimized for capacity and efficiency. It features a patent-pending multiprocessor architecture and supports much greater capacity than monolithic flash controllers. The Nimbus Data ExaDrive DC100 uses 3D NAND flash memory which can provide enough capacity to store 20 million songs or 20,000 HD movies.
Featuring the same 3.5" form factor and SATA interface used by hard drives, the ExaDrive DC100 is plug-and-play compatible with hundreds of storage and server platforms. The DC100's low-power (0.1 watts/TB) and portability also make it well-suited for edge and IoT applications. The DC100 achieves up to 100,000 IOps (read or write) and up to 500 MBps throughput.
The ExaDrive DC100 is protected by an unlimited endurance guarantee for 5 years. Embedded capacitors ensure that buffered data is safely protected if there is a sudden power loss. Encryption, multiple ECC processors, and a secure-erase feature ensure data security. The DC100 offers a mean time between failures (MTBF) of 2.5 million hours.
The DC100 is targeted at enterprise customers, including giant data centers and big cloud services looking to reduce rack space and power costs but it also gives a glimpse into a near future when this technology will be incorporated into solutions for general consumers and will allow us to never think about clearing up storage space on our computers.
Unfortunately, high capacity SSDs may also fall victims to logical and physical failures like any other storage media. As they have highly complicated architecture, data recovery from SSDs that use NAND flash memory can be very challenging. Every SSD recovery situation is unique and requires advanced technologies and highly specific software and hardware tools for data recovery procedures. ACE Data Recovery is the market leader in data recovery technologies. ACEs are excited to take the challenge of retrieving data from such high-capacity SSDs and are looking forward to it.