Micron Launches 9400 NVMe Series: U.3 SSDs for Data Center Workloads
January, 2023
Micron Launches 9400 NVMe Series: U.3 SSDs for Data Center Workloads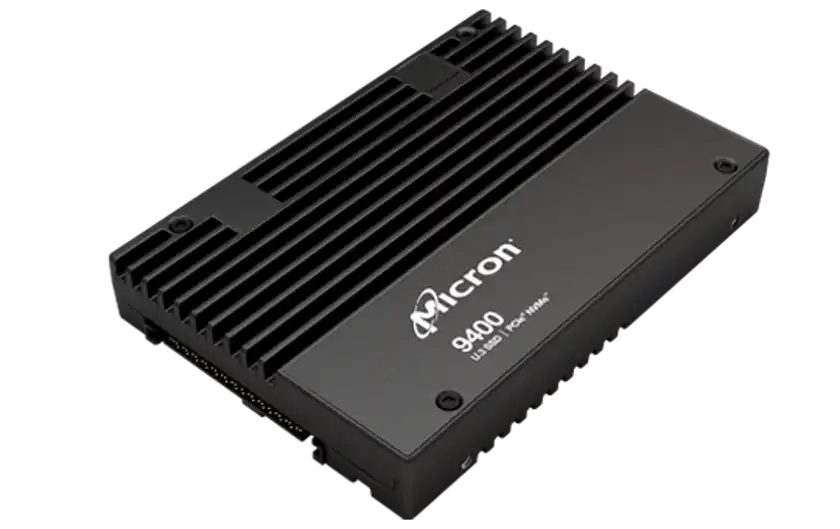 Micron Technology, Inc. announced the 9400 NVMe SSD – a drive designed to manage the most demanding data center workloads, particularly in artificial intelligence (AI) training, machine learning (ML) and high-performance computing (HPC) applications. The Micron 9400 NVMe series of U.3 SSDs features a PCIe 4.0 x4 interface and their now-mature 176L 3D TLC NAND. Increased capacity per die is also now enabling Micron to present 2.5" U.3 drives with capacities up to 30.72 TB, effectively doubling capacity per rack over the previous generation. Micron points out that a standard two-rack-unit, 24-drive server loaded with 30.72TB 9400 SSDs provides 737TB per server. By doubling capacity per SSD, Micron is enabling enterprises to store the same amount of data in half as many servers.
While many SSDs are designed for pure read or write use cases, the Micron 9400 SSD series was designed with real-world applications in mind. The 9400 NVMe series comes in two versions – the 9400 PRO and 9400 MAX. The Micron 9400 PRO is optimized for read-intensive workloads (1 DWPD), while the Micron 9400 MAX is meant for mixed use (3 DWPD). The maximum capacity points are 30.72 TB and 25.60 TB respectively.
The 9400 NVMe SSD series is already in volume production for AI / ML and other HPC workloads. The move to a faster interface, as well as higher-performance NAND enables a 77% improvement in random IOPS per watt over the previous generation. Micron is also claiming better all-round performance across a variety of workloads compared to enterprise SSDs from competitors.
The Micron 9400 NVMe SSDs are available in a U.3 form factor that is backward-compatible with U.2 sockets and come in capacities ranging from 6.4TB to 30.72TB. These versatile SSDs are built to manage critical workloads whether in on-premises server farms or in a multi-tenant shared cloud infrastructure, but, unfortunately, they are vulnerable to some SSD defects and have a limited number of write cycles so the ability to write to them will eventually wear out, leading to potential data loss, which means downtime for business. Then the owners of the Micron 9400 NVMe SSDs will need to contact a professional data recovery company provider to restore their irreplaceable data.
ACE Data Recovery provides recovery services on a full range of solid state drives and is the only company that develops their own in-house proprietary hardware and software specifically to recover SSD drives, as well as for external hard drive recovery. ACEs can boast of one the highest success rates in the industry – 98% and are ready to help the Micron 9400 NVMe SSD owners with their data recovery needs.