Micron Announced 9300 Series NVMe SSDs
May, 2019
Micron Announced 9300 Series NVMe SSDs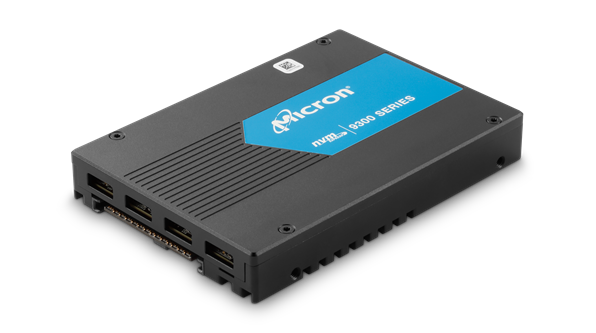 Micron Technology, Inc. announced an expansion of its enterprise NVMe SSDs with the addition of the 9300 series, aimed at providing near real-time access to data by offering the industry's lowest average write latency. The new drives come in a performance and endurance model with capacities ranging from 3.2TB to 15.36TB in a U.2 form factor. The availability of the SSDs in high capacities allows customers to scale according to their changing storage needs and keep up with the explosion in data growth.
The Micron 9300 series NVMe SSDs are built around the company's 64-layer 3D TLC NAND and equally balance its 3.5GB/second throughput on both reads and writes to deliver faster response times for data-centric applications. According to the company, the new series of drives performs nearly nine times faster than leading enterprise SATA SSDs and is 35% more efficient. The Micron 9300 series consumes 28% less power than earlier NVMe drive generations, helping reduce operational costs. The Micron SSD 9300 series also features 850,000 read and 310,000 write I/O operations per second, data-path protection, power-loss protection for in-flight and at-rest data, and sanitize crypto erase.
The Micron 9300 series of NVMe SSDs is available in two versions. The 9300 Pro series is designed for read-intensive workloads and is offered in capacities of 3.84 TB, 7.68 TB and 15.36 TB. The 9300 Max is designed for mixed-use applications and is offered in capacities of 3.2 TB, 6.4 TB and 12.8 TB. Both the Pro and Max versions are available in 2.5-inch form factor, support PCle Gen3 x4 NVMe, and are rated for a mean time of two million hours between failures.
The Micron 9300 series of NVMe SSDs will enable companies with data-intensive applications to access and process data faster, helping reduce response time. But unfortunately, they may fail just like any other storage media and that may result in data loss and downtime for businesses. To get their irreplaceable data back, businesses will need to contact a reliable data recovery services provider. ACE Data Recovery engineers can successfully recover data from any types of storage media, including failed NVMe SSDs. ACE Data Recovery team will gladly help the Micron 9300 Series NVMe SSDs owners with their data recovery needs.