Micron's latest SATA-based 5400 SSD could deliver a fatal blow to the HDD
July, 2022
Micron's latest SATA-based 5400 SSD could deliver a fatal blow to the HDD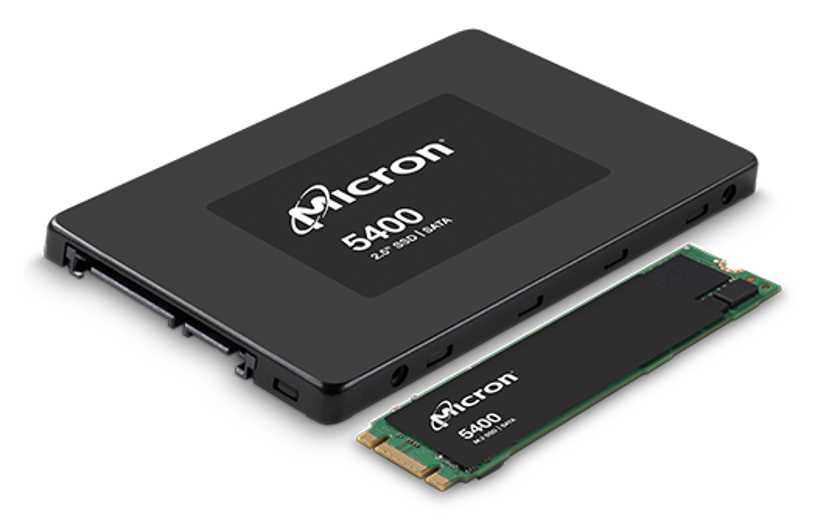 Micron has announced the new Micron 5400 SATA SSD for data centers, but with a difference; it is the first to come with the company's proprietary 176-layer NAND technology. The Micron 5400 SSD allows data center operators to install new servers (or upgrade existing ones) while continuing to use the SATA interface and provides a viable alternative to lower capacity 10K and 7.2K SATA HDDs.
The Micron 5400 SSD is the direct successor to the Micron 5300 SATA SSD, launched in October 2019, which used a 96-layer NAND. As such, the 5400 is more of an evolution of the 5300, as it keeps the same form factor, connector, capacities, and performance. The Micron 5400 SSD comes in an M.2 or a 2.5-inch design with a SATA port, with sizes ranging from 240GB to 7.68TB.
Three versions of the Micron 5400 SATA SSD drive will be available: Boot, Pro and Max. The latter is optimized for mixed usage, offering a much higher endurance (drive writes per day) compared to the Pro SKUs, which are more geared towards read-intensive scenarios. The 5400 Max SSD offer up to 3.33x times the SSD endurance.
As far as performance goes for the 2.5-inch form factor, all models and capacities are quoted to deliver 540MB/s in sequential reads. Sequential writes are mostly the same across the board as well (at 520MB/s) with the exception of the 240GB Pro model, which is set at 350MB/s. For random performance, both the 5400 Pro (480GB-3.8TB) and Max (480GB, 960GB, and 3.84TB) are expected to reach up to 95,000 IOPS in reads, while writes are quoted to deliver up to 37,000 IOPS for the Pro and 65,000 IOPS for the Max.
Performance for the M.2 SATA SSD form factor includes quoted sequential speeds up to 540MB/s read and 290MB/s write, while the Pro version is expected to hit up to 540MB/s read and 520MB/s write for the highest capacity model.
The new Micron 2.5-inch drive has a 3-million-hour rating MTTF across all SSD models, while endurance is specified at 1.5 DWPD for the Pro and up to 5 DWPD for the Max. Endurance is 1.0 and 1.5 DWPD for the M.2 form factor Boot and Pro version, respectively.
According to the company, the Micron 5400 SSDs enable broad use cases, deliver significantly better performance than traditional hard disk drives (HDDs), and extend the life of SATA platforms. But, unfortunately, they are also vulnerable to logical SSD failures that may result in critical business data inaccessibility. In such situations, the owners of the Micron 5400 SATA SSD will need to contact a reliable data recovery services provider to get their irreplaceable data back. ACE Data Recovery team has extensive experience in recovering data from all types of storage media and is ready to help the Micron 5400 SATA SSD owners with their data recovery needs.