Micron Ships World's First 176-Layer NAND
December, 2020
Micron Ships World's First 176-Layer NAND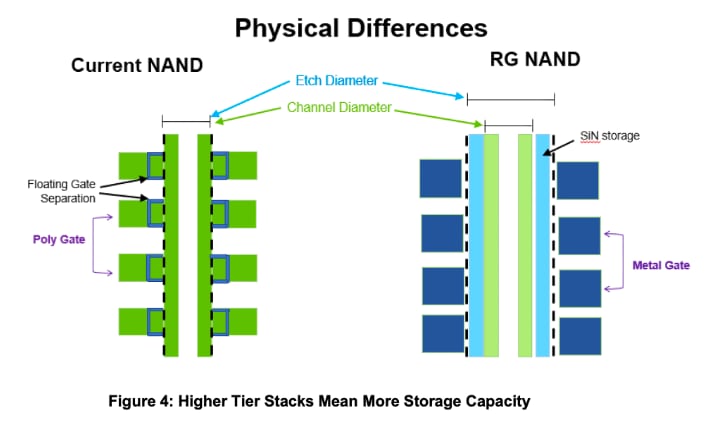 Micron Technology announced that it started volume shipments of the world's first 176-layer 3D NAND flash memory. According to the manufacturer, this new technology and advanced architecture represent a radical breakthrough, enabling immense gains in application performance across a range of storage use cases spanning data center, intelligent edge, and mobile devices.
The company claims that compared with the previous generation of high-volume 3D NAND, 176-layer NAND improves both read latency and write latency by more than 35%. Another advantage is the compact design – the 176-layer memory die size is approximately 30% smaller than in the best-in-class offerings from competitors.
Micron's 5th generation of 3D NAND also features an industry-leading maximum data transfer rate at 1,600 megatransfers per second (MT/s) on the Open NAND Flash Interface (ONFI) bus. It is a 33% improvement compared to Micron's prior two generations of 3D NAND (96-layer NAND and 128-layer NAND) which featured a maximum of 1,200 MT/s data transfer rates.
Micron anticipates the new 3D NAND will be used across a range of industries, including autonomous systems, in-car infotainment systems, and mobile storage, as well as client / data center SSDs. The company is working with industry developers to quickly integrate the new products into solutions. Micron even offers a single-pass programming algorithm to simplify firmware development, make integration easier, and shorten the time it takes to get a product into market.
Micron said they achieved unparalleled density and cost leadership with novel architecture. The manufacturer has improved scalability and performance for future NAND generations by transitioning its NAND cell technology from floating gate to charge-trap. This charge-trap technology is combined with Micron's replacement-gate architecture, which uses metal wordlines instead of a silicon layer.
Micron said that 176-layer triple-level cell 3D NAND is in volume production in its Singapore fab, and now it is shipping to customers, including through its Crucial consumer SSD product lines. The company will also introduce additional new products based on this technology during 2021.
ACE Data Recovery team is excited to see this amazing achievement that marks a new milestone in the evolution of the NAND technology.