Micron Ships 176-Layer QLC NAND PCIe Gen4 Client SSDs
February, 2022
Micron Ships 176-Layer QLC NAND PCIe Gen4 Client SSDs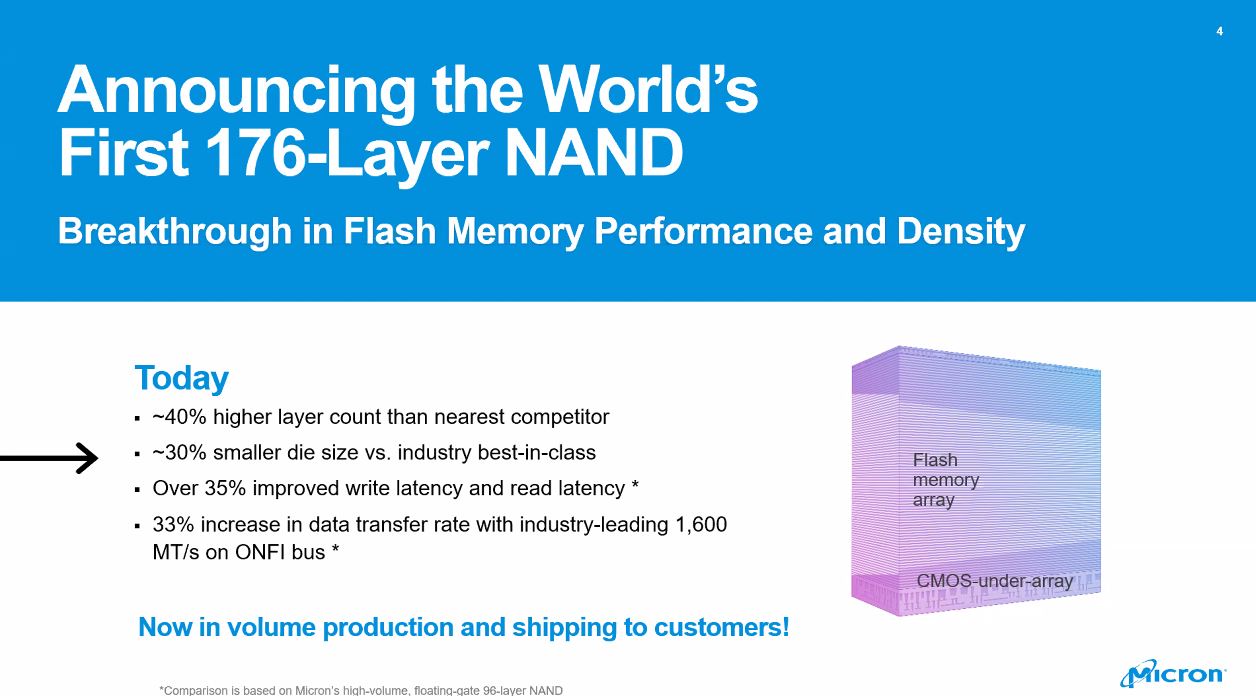 Micron announced it has begun volume shipments of the world's first 176-layer QLC NAND SSD. Built with advanced NAND architecture, Micron's 176-layer QLC NAND delivers the industry's leading storage density and optimized performance for a broad range of data-rich applications. The Micron 2400 SSD is the world's first 176-layer PCIe Gen4 QLC SSD for client applications.
According to Micron, the new 176-layer QLC NAND will also be incorporated into select Micron Crucial consumer SSDs, and available as a component for system designers. Micron's 176-layer QLC NAND enables 33% higher I/O speed and 24% lower read latency than Micron's prior generation solution. Its replacement-gate architecture is the only mass production QLC flash storage that combines charge trap with a CMOS-under-array design.
The Micron 176-Layer QLC NAND PCIe Gen4 Client SSDs are available in three capacities of 512GB, 1TB, and 2TB and three compact M.2 form factors – 22x30, 22x42, and 22x80. The Micron 2400 SSD is also the world's only 2TB 22x30mm M.2 SSD. This form factor shrinks the physical space required by 63% when compared with a 22x80mm M.2 form factor, providing design flexibility and making the drive ideal for small, mobile laptop designs. The Micron 2400 2TB SSD offers up to 4.5GB/sec (4500MB/sec) reads, and up to 4GB/sec (4000MB/sec) writes while random reads are at 650K IOPS and random writes hit 700K IOPs.
The Micron 2400 SSDs are designed to support the Project Athena specification, which enables over nine hours of battery life even when used with HD displays. The 2400 SSDs help reduce battery demand with active idle power consumption that is 50% lower than the prior generation for hours of untethered productivity and entertainment.
But no matter how good they are, the new Micron 176-Layer QLC NAND PCIe Gen4 Client SSDs are also vulnerable to logical and physical failures that result in critical user files inaccessibility. To get their irreplaceable data back, the owners of the Micron 2400 SSDs will need professional data recovery services provider. ACE Data Recovery team has an extensive experience in recovering data from all types of storage media and is ready to help with the Micron 2400 SSD data recovery.