Micron Introduces the New 1300 96-TCL 3D NAND SATA SSD
April, 2019
Micron Introduces the New 1300 96-TCL 3D NAND SATA SSD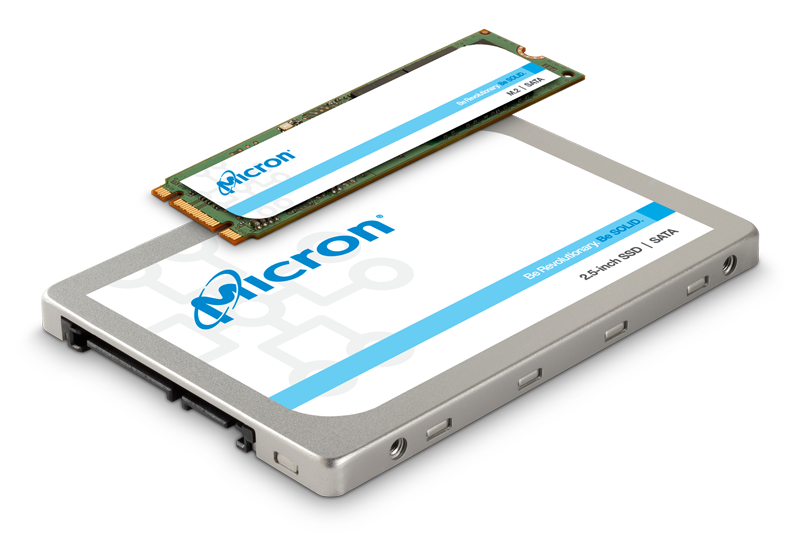 Micron released a new cost-efficient solid-state drive in its client portfolio targeted at consumers who want to make the switch from old, slow, power-hungry HDDs to high-performance SSDs. The new Micron 1300 SATA SSD is one of the industry's first 96-layer triple-level cell (TLC) 3D NAND-based SSDs. The 1300 SSD improves the mobile computing experience with consistent performance, high capacity and power efficiency. The 1300's familiar SATA interface also enables a graceful transition from HDDs to SSDs.
Micron offers the new 1300 SATA SSD in conventional 2.5-inch and M.2 formats. Independent of the form factor, the Micron 1300 comes with the same feature set and level of performance. In terms of features, the Micron 1300 boasts support for device sleep (DEVSLP) low-power mode, asynchronous power-loss protection, adaptive thermal monitoring, Garbage Collection, and S.M.A.R.T. The Micron 1300 uses an XTS AES-256-bit hardware engine so the manufacturer also offers optional features, such as Opal 2.0 self-encryption to protect your valuable data without compromising the SSD's performance. It also offers a secure erase feature that makes it quick to repurpose or retire the drive.
For mobile users, the Micron 1300 SSD's low power consumption will mean longer battery life. In low-power mode the drive consumes less than 5mW (10mW for the 2TB version), significantly less power than HDDs. In active mode, Micron claims that the 1300 uses about twenty times less power than an equivalent HDD.
The Micron 1300 is available in capacities of 256GB, 512GB, 1TB, and 2TB (only available in 2.5-inch format). As to the performance, the drive delivers sequential read and write speeds of up to 530 MB/s and 520 MB/s, respectively. The 256GB model has a random read speed of 58,000 IOPS while the higher-capacity models are rated for 90,000 IOPS. Random write performance is rated at 87,000 IOPS across all models.
According to the company, the deployment of advanced 3D NAND technologies has led the client SSD market to branch into value and higher-performance storage segments and Micron's latest client SSD solutions provide a coherent migration path from HDD to value-oriented SSDs. But no matter how good they are, the new Micron 1300 SATA SSDs can fall victim to logical and physical failures just like any other storage media.
To get their precious data back, the Micron 1300 SATA SSD owners will need to contact a professional data recovery services provider. Being a leader in data recovery services, ACE Data Recovery team has an extensive experience in recovering files from all types of storage media. ACEs will gladly help the Micron 1300 SATA SSD owners with their data recovery needs.