Lexar Launches New Entry-level NM760 PCIe 4.0 NVMe SSD
June, 2022
Lexar Launches New Entry-level NM760 PCIe 4.0 NVMe SSD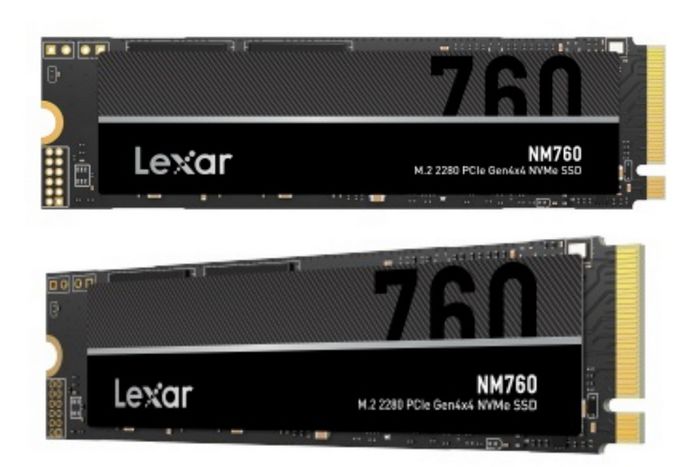 The Lexar NM760 M.2 2280 PCIe Gen4x4 NVMe SSD was designed, keeping in mind the needs of gaming and filmmaking professionals who need faster speed and more computing power to transfer high-quality data. The Lexar NM760 NVMe SSD is currently available in two capacities: 512GB and 1TB. As an SSD drive targeting the entry-level market, the NM760 features a DRAMless design, which can significantly reduce the cost of SSD. The Lexar NM760 PCIe Gen4x4 NVMe SSD is shock and vibration resistant and can be equipped with an optional heatsink, so it is capable of giving a good performance while keeping the SSD cool.
With 3D TLC flash memory, the Lexar NM760 M.2 2280 PCIe Gen4x4 NVMe SSD allows users to enjoy a high-speed gaming experience with a speed of up to 5300MB/s read and 4500MB/s write. It is a PCIe NVMe SSD, which is 9.6x3 the performance compared to a traditional SATA-based SSD. The NM760 is backward compatible with PCIe 3.0 and widely compatible with notebooks, personal computers, and PlayStation 5. The NM760 SSD features the 12nm controller for lower power consumption.
The Lexar NM760 PCIe 4.0 NVMe SSDs are protected with five-year limited warranty and can be a good option to upgrade, but unfortunately, NVMe SSD are vulnerable to logical and physical failures, which may result in critical files inaccessibility. In such situations, the owners of the Lexar NM760 PCIe 4.0 NVMe SSDs will need to contact a professional data recovery services provider to get their irreplaceable data back.
ACE Data Recovery has been providing high-quality data recovery services for more than 35 years and is one of the leading companies in the industry. ACE Data Recovery engineers can successfully recover data from hard drives and SSDs of all makes and models. ACEs are ready to help the Lexar NM760 PCIe 4.0 NVMe SSD owners with their data recovery needs.