Lexar Announces SL660 Blaze 1TB Portable SSD
June, 2022
Lexar Announces SL660 Blaze 1TB Portable SSD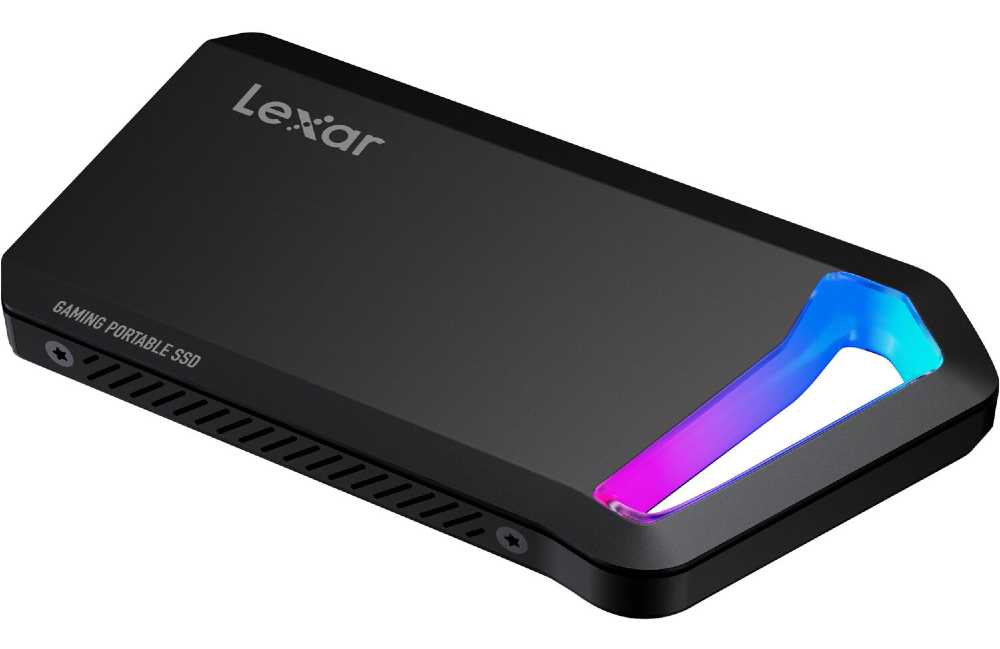 Lexar's SL660 Blaze is the company's latest portable SSD drive for gaming and comes in 512GB and 1TB capacities. The SL660 Blaze SSD comes with resplendent RGB lighting and includes software support combined with a selection of materials and styling.
The Lexar SL660 Blaze SSD has just two capacities: 512GB and 1TB. The SL660 Blaze solid-state drive is rated for up to 2.0/1.9GBps for sequential reads and writes, has a five-year warranty, and is rated for shock resistance. In addition, the controller itself has typical data protection with SMI's NANDXtend, a patented technology that has similarities to techniques used on other controllers. This gets the most endurance out of the flash through LDPC error correction and can correct errors through RAID parity recovery. Lexar also offers 256-bit AES encryption, but this is software-based, so it won't be as performant.
The Lexar SL660 Blaze SSD has both Type-C to Type-C and Type-C to Type-A USB cables and a detachable stand. These are both convenient as you can dock the drive when near your computer, and the drive will be compatible with two common types of USB ports. The SSD drive also comes with an SSD toolbox, the Lexar SSD Dash, and support for software encryption through Lexar's DataShield.
The SL600 SSD's performance is actually not bad for a portable drive. The one area it does fall short is during sustained, sequential write workloads, which exhibit very poor post-cache performance. The cache design itself is robust even if the cache is not particularly large, but this issue will be more troublesome with a fuller drive. This is not usually a problem for gaming, but if you also want to also use this drive to transfer files, particularly larger ones, some alternatives are more attractive in terms of speed and consistency.
The Lexar SL660 Blaze SSDs generally perform well and are a good choice for those who want portable SSDs with a "gaming" feel, but they are also subject to SSD failures that may result in critical user data inaccessibility. If that happens, the owners of the Lexar SL660 Blaze SSDs will need to contact a professional data recovery services provider to get their irreplaceable files back. ACE Data Recovery team has extensive experience in recovering data from all types of storage media and is ready to help the Lexar SL660 Blaze SSD owners with their data recovery needs.