Kioxia FL6 SSD with 60 DWPD XL-FLASH Brings the SLC
October, 2021
Kioxia FL6 SSD with 60 DWPD XL-FLASH Brings the SLC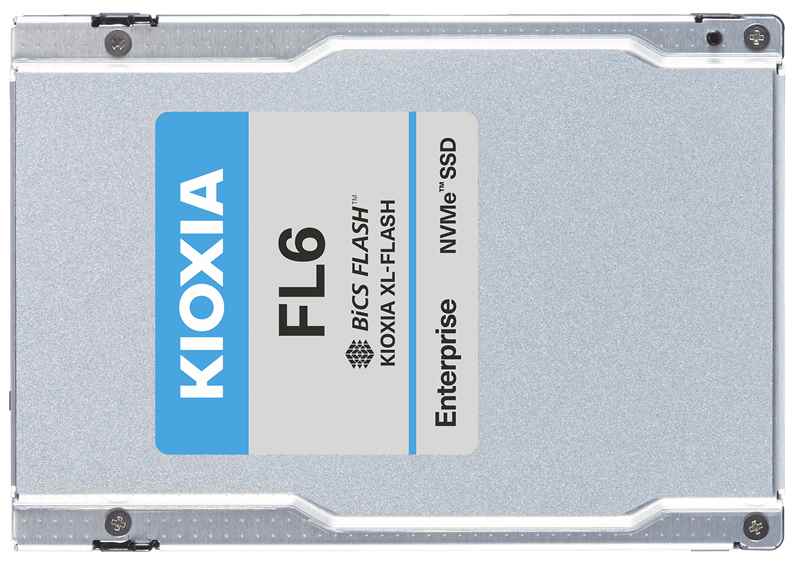 Kioxia has launched a new drive, the Kioxia FL6 NVMe SSD where it is still using its BiCS FLASH 3D NAND. Featuring the Kioxia SCM solution, XL-FLASH, the dual-port and PCIe 4.0-compliant Kioxia FL6 Series SSDs bridge the gap between DRAM and TLC-based drives. Those features make them well-suited to latency-sensitive use cases, such as caching layer, tiering, and write logging.
Based on Kioxia's innovative BiCS FLASH 3D flash memory technology with 1-bit-per-cell SLC, XL-Flash SCM brings low latency and high performance to data center and enterprise storage. Reducing latency is critical to enterprise and hyperscale application responsiveness, but while volatile memory solutions such as DRAM provide the access speed needed by demanding applications, it comes at a high cost. And TCL NAND lacks core functionality to reduce system latency. SCM addresses this by providing high density, lower cost non-volatile Flash memory.
Here are Kioxia FL6 Series highlights
PCIe 4.0 and NVMe 1.4 specification compliant; ready for NVMe-oF deployments
Native dual-port for high-availability and resiliency
60 DWPD endurance and capacities from 800 GB to 3.2 TB
Enterprise reliability of 2.5M hours MTBF
SED and FIPS 140-2 security options
When it comes to performance Kioxia didn't have any information to provide. They issued some generic statements like, "The FL6 Series performs well on low queue depth workloads but its true strengths are revealed as workloads become more demanding and mixed. In these environments, FL6 drives deliver reliable quality of service – a critical attribute for a wide variety of latency-sensitive applications."
The Kioxia FL6 Series is now sampling to key industry partners and customers. The Kioxia FL6 SSDs are the company's answer to Samsung Z-NAND and in some ways also Intel Optane SSDs. Unlike SCM that goes into memory channels, they can offer higher capacities albeit at the expense of going over PCIe. But unfortunately, the new Kioxia FL6 SSD with 60 DWPD XL-FLASH are also vulnerable to logical and physical SSD failures that ay result in critical data inaccessibility. In such cases, the owners of The Kioxia FL6 SSDs will need to contact a professional data recovery services provider, like ACE Data Recovery team. ACEs can successfully recover data from all types of storage media and are ready to help the the Kioxia FL6 SSD owners with their data recovery needs.