Kingston Launches HyperX Savage Exo External SSD
November, 2018
Kingston Launches HyperX Savage Exo External SSD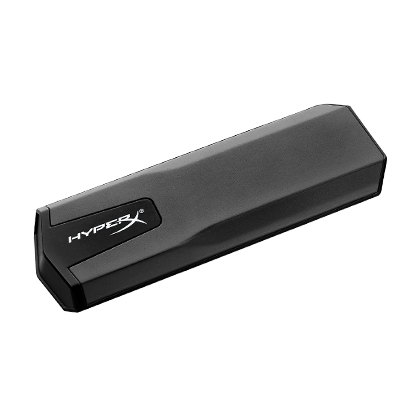 HyperX, the gaming division of Kingston Technology Company, Inc., announced the release of a new external SSD. The HyperX Savage Exo drive uses a USB Type-C interface and is based on 3D TLC NAND flash memory.
HyperX's Savage Exo delivers up to 500/480 MB/s of sequential read/write throughput over its USB 3.1 Gen 2 interface. The SSDs are currently available in 480GB and 960GB capacities. Kingston does not name the controller it uses for the drive, but keeping in mind that Kingston works very closely with Phison, it is more than likely that the HyperX Savage Exo external SSD uses one of the solutions designed by Phison.
HyperX designed the Savage Exo for a range of applications, including expanding the storage of a game console and speeding gaming installs. The company also claims the drive will help "deliver 20% faster load times" than an HDD for a more fluid gaming experience, but that speed does come with a significant price premium over much cheaper and more capacious HDDs. In addition to game console compatibility, drive support starts at Windows 7 (SP1), Mac OS X 10.9, and Linux 2.6x (and newer versions).
Kingston's HyperX Savage Exo is very light and portable: it weighs 56 grams and measures 123.82 × 48.61 × 10.24 mm. That's why it is a good solution for quick storage and data transfer on the go. The drive can operate at temperatures from 0°C to 70°C, which looks like rather extreme conditions.
According to Kingston, HyperX Savage Exo external SSD is a good option for users looking for fast, external storage for game backups, video editing, and other speed-sensitive storage requirements. With slick, edgy looks and excellent read performance, the Savage Exo is an excellent game drive for PC and console gamers
.
But no matter how good SSDs are, they are vulnerable to physical failures caused by abrupt power loss, magnetic fields, and electric charges. Besides, SSDs have a limited number of write cycles so the ability to write to them will eventually wear out and may lead to potential data loss. Then the owners of Kingston HyperX Savage Exo external SSDs will need to contact a reliable data recovery services provider to get their irreplaceable data back.
Every SSD recovery situation is unique and requires cutting-edge technologies and highly specific software and hardware tools for data recovery procedures. ACE Data Recovery is the market leader in data recovery technologies. ACEs have technology and expertise to get your data back from any type of storage media regardless of the data recovery problem you are facing.