KingSpec NE-256 256GB M.2 2242 NVMe SSD
April, 2021
KingSpec NE-256 256GB M.2 2242 NVMe SSD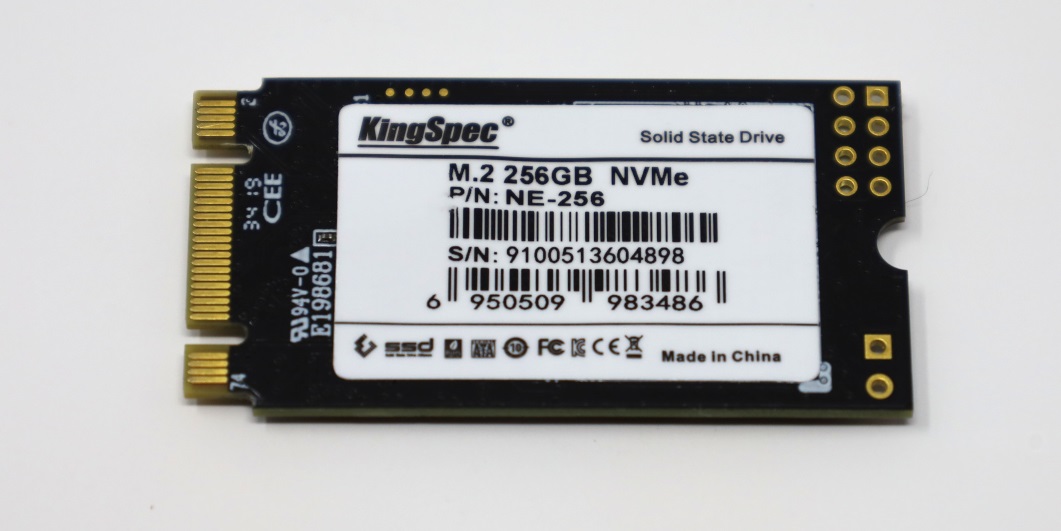 The KingSpec NE-256 is an inexpensive, very bare-bone 256GB NVMe SSD that comes in a single-sided M.2 2242 (42mm) form factor. This NVMe SSD drive features a single Intel TLC NAND package and a SMI 2263XT controller. As it would be expected on a low-end drive like this, it has no DRAM cache, and the 2263XT controller is designed specifically for DRAM-less operation and relies upon Host Memory Buffer (HMB) technology to offset the lack of on-drive cache. As a single-sided drive, the back has a small label and nothing else. As it is an ultra low-end consumer drive, there is no power loss protection (PLP).
The Kingspec NE-256 line of TLC based SSDs is available in capacities from 64GB up to 512GB. They are faster than SATA SSDs. The rated performance across the NE line is quoted at a flat 1100MB/s read and 1000MB/s write. Endurance of 256GB SSD drive is 174TB; with a 3 year warranty period that works out to around 0.62 DWPD. The KingSpec NE-256 SSD 256GB has a PCIe 3.0 x2 interface.
Kinspec is focusing on cost optimizations and a smaller form factor over performance. So if you simply need a 42mm NVMe SSD, then the Kingspec NE-256 is a viable option. There are plenty of use cases, such as client PCs and boot devices. So if you want to save a few dollars and M.2 2242 is important for you, then perhaps, this is the drive for you. But like all storage media, the KingSpec NE-256 256GB M.2 2242 NVMe SSDs are vulnerable to logical SSD failures, which may lead to critical files inaccessibility. If that happens, the owners of the KingSpec NE-256 SSDs will need to contact a professional data recovery services provider to get their files and documents backs. ACE Data Recovery team can successfully recover data from HDD and all types of storage media, including NVMe SSDs, and will gladly help the KingSpec NE-256 SSD owners with their data recovery needs.